LINE FairyWoods Patisserie is the latest addition to the LINE GAME series. This bakery simulation game is set in a dream-like world of fairy tales, where an eccentric yet loveable sweets-maker named Zizi opens up shop.
Bake Cakes and Keep Customers Coming Back for More!
The concept behind the game is simple - bake delectable desserts and sell them to customers in your bakery in the woods. You can also learn new recipes as you go. With everything from chocolate cake to baumkuchen, there's bound to be something here to satisfy your sweet tooth. As your shop grows, hire more bakers and waiters to keep things running smooth as chocolate. Clear the quests you encounter while running your shop to complete fairy tale pictures books, and create the bakery of your dreams by customizing the interior.
Tap your oven to see a list of recipes complete with the time it takes to cook and the payment you will receive for each item. Choose a recipe to start baking. When it's finished in the oven, take it out and carry it to the counter. The wait staff will then carry it to the customer to complete the transaction. Bake another cake in the now empty oven to keep the patisserie ball rolling. When you can't wait for a cake to bake, try using an "Hourglass" or "Candy" to shorten the bake time.
You can earn helpful items and puzzle pieces central to the game by clearing quests given to you by fairy tale friends. Complete fairy tale picture books by collecting all the pieces to the corresponding puzzle and you will receive very useful rewards.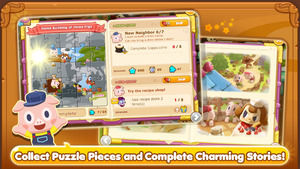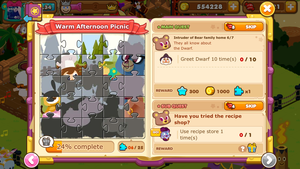 Get Special Recipes from the Recipe Shop
Tap on the tent-shaped mark at the bottom right of the screen to get to the "Recipe Shop", a tome of cooking knowledge filled with special recipes available for purchase. Each recipe has its own difficulty level. If the recipe's level is higher than the level of your oven, you can't learn it. The game also features a Gacha machine that packs some pretty sweet prizes. Spin the Gacha once a day for free, or use Clovers (Friend Points) or Gold to spin it whenever you like.
FairyWoods Patisserie boasts more than just a customizable kitchen. You can increase the size of your shop, add more counters and tables, as well as redecorate the interior to your heart's desire. Impress your patrons by jazzing up your bakery's interior. Cake shop customers really dig a sweet atmosphere, so decorate away!
Compete with LINE Friends for Bakery Shop Rankings
FairyWoods lets you compete with your LINE friends for the highest bakery shop ratings in the weekly rankings. It also allows you to visit their shops to get helpful in-game items. Work together with friends to open up a whole new world of baking.
Have fun creating the bakery of your dreams inside a forest of fairy tales!
LINE FairyWoods Patisserie (Free Download)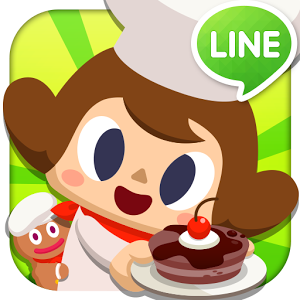 ▼App Store
▼Google Play