Say hello to the newest addition to the LINE GAME family, LINE Cookie Run!
Help the cookies escape being baked in the witch's oven by running through exciting stages in this brand new side-scrolling game.
Jump and Slide Your Way to Freedom
Match your timing with the cookie running on the screen and tap the left to jump and the right to slide under obstacles that appear from above.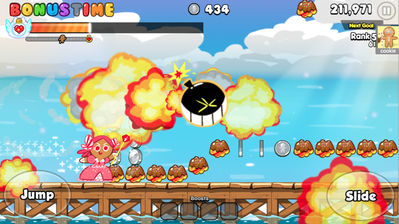 Don't fall in the pits, or else it'll be game over! If you accidentally bump into an obstacle while running, your energy will decrease, and if it gets to zero, the cookie will crumble. Grab the Restore Potions that pop up in the stage to get your strength back and run even farther. Run as far as you can while collecting the Coins and Jellies to get the highest score!
Collect Powerful Items to Boost Your Score
Pick up the Jellies scattered throughout the game to raise your score. Pick up items as you run, like the Giant Jelly and Blast Jelly, to gain temporary invincibility and go even farther.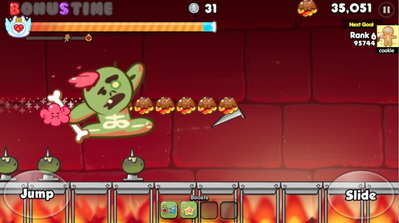 There are a whole bunch of other cool items too, like the Bear Jelly Party, which turns all regular Jellies into Bear Jellies for maximum points. The Magnet Jelly attracts all the items around you, and the Coin Jelly turns obstacles into Coins. Grab these items to raise your score faster than dough in a bakery!
Bake up a Tray Full of Points in Bonus Time
Collect the 9 letters that appear in stages to spell out BONUS TIME and grab all the Coins and Jellies you can hold.
A Batch of Cookies with a Flavor for Every Taste
At the time of release there are 15 different cookie characters to choose from, each with their own set of abilities. Pick the one you like the most and escape the oven! There are plans to release more cookies in future updates.
Watch the Game Trailer
See what LINE Cookie run is all about in this brand new promo video.
Help these cute confectionaries escape the clutches of the evil witch!
LINE Cookie Run (Free Download)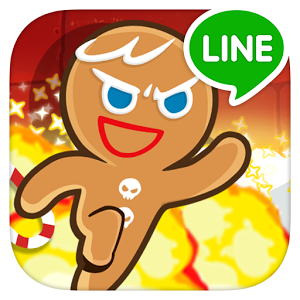 App Store
Google Play