Oh no, the Boss is running away with the prize for the treasure hunt! Help Cony, Brown, James and Moon catch him and get it back in LINE Party Run, the latest addition to the LINE GAME family.
Simply tap to jump over obstacles and collect items!
The controls are as simple as it gets – tap the screen to time the character's jumps and avoid obstacles and pits. The game ends once the character runs out of HP or falls into a pit. HP goes down as the character runs, so jump to collect any drinks you find along the stage to restore it. Obstacles are your biggest enemy. To conserve HP, try your best not to bump into them.
There are 8 types of characters to choose from, each in a different fancy dress and with a different special ability. Pink Cony can destroy obstacles with her laser gun, Maid Cony can generate shields, Delivery Brown gets bonus points for successful hits, and Rocker Brown reduces damage from obstacles. Moon and James will also be added soon.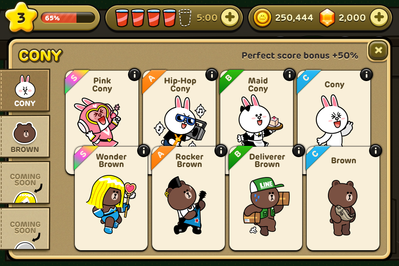 Of course, Sally will be appearing in the game too! Take one of the 19 different types of Sally with you on your run to enjoy additional special abilities.
Collect the items along the way and aim for a high score!
The colorful candies you find along the stage add to your score, so be sure to collect as many of them as you can. Upgrade the level of the candies to get even higher scores. The Giant item turns your character into an invincible giant, helping you rake in even more points.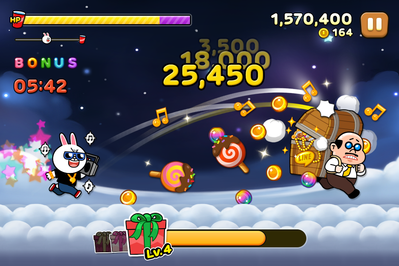 LINE characters that are not in use will appear as rivals in this mode. Catch and stomp on them to get bonus HP for extended gameplay.
Complete the missions in the game to get Rubies and Gold that can be used to purchase characters and upgrade abilities.
Compete with your LINE friends and get rewards!
Like all other LINE games, you can compete with your LINE friends in LINE Party Run. Invite friends to get Friend Points, which can be exchanged for rewards. Want to know what's they are? Start inviting your friends to find out!
App Store:
Google Play: