Dodge cars while careening down an endless track in the first racing game in the LINE GAME series, LINE GO!GO!GO! Steer or jump, these simple controls bring a thrilling sense of speed to your gaming experience.
Simple controls – Swerve left or right, and jump until your gasoline runs out!
All you have to do is steer and jump, that's it! Overtake the cars in front of you and race as far as you can. The only thing you have to worry about is your gas, which decreases gradually as you drive and also when you collide with any other cars on the track. Once it runs out, it's game over, so try not to drive recklessly. Pass a checkpoint to restore your gas and receive a score bonus. Your final score is determined based on the number of cars you overtake and the distance you drive.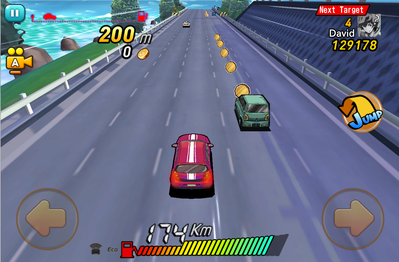 Refine your driving skills to get the high score!
Drive behind other cars to decrease wind resistance, building up your speed and reducing gas consumption. Dodge a car right before you are about to collide to start the "Go!" combo. String more combos together to get speed and score bonuses. Let the "Go!" voice pump you up!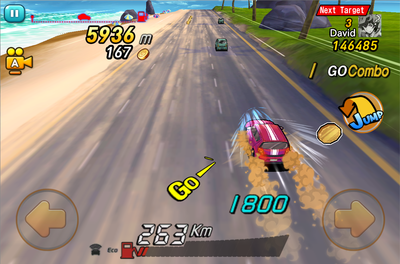 After you drive for a certain distance, a rival car with an exclamation mark over it will join the race. Overtake the car or destroy it with items within the time limit to get even more points.
Pick the driver and car that's right for you!
A variety of drivers and over 50 cars, each with their own strengths and weaknesses, lets you create the play style that suits you best and brings in the most points. Gold and trophies you receive by getting a high score can be used to buy new cars and drivers or increase their abilities.
Play with your LINE friends to get cars!
There's more than just competing with your friends in the rankings! Send them Tires to give them more chances to play or post your high score on your Timeline to receive Friendship Points. Use Friendship Points to get items or even cars from the exclusive Gacha machine!
LINE GO!GO!GO! (Free Download)