The newest title in the LINE GAME series, "LINE Let's Golf", just rolled onto the green. The first golf game ever offered on the LINE GAME platform, this app allows players to experience the joy of golf on beautiful 3D courses set in lush landscapes.
Time your swing and hit as many balls as you can during the time limit.
Players earn points by hitting as many golf balls as close to the cup as possible during the time limit. To earn high scores, simply time your taps on the Distance Gauge and Accuracy Gauge displayed on the right so that their respective cursors stop in the middle green part of the gauge. Time it well and your golf balls will fly straight and far.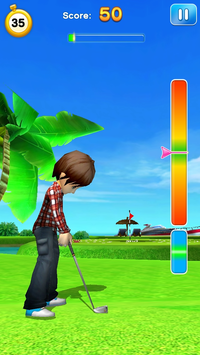 The closer your golf balls come to the cup, the more points you earn and the farther and more accurately you will be able to hit your shots. Sink the ball with a single stroke to get a Hole in One, which awards the earner with a lavish amount of points.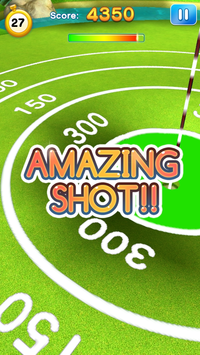 Rack up points to fill the Fever Gauge displayed on the top of the screen to break into Fever Mode, where you can earn a whole driving range worth of bonus points by tapping the screen as many times as possible as long as the fever lasts.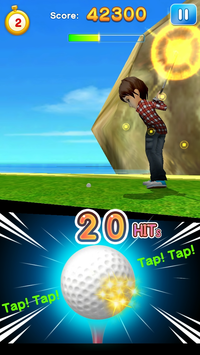 Enjoy a realistic golfing experience combined with beautiful courses
Let's Golf offers a whole new level of realistic gameplay. The cursor used to time your shots changes speeds and the gauges get harder to see based on the geographic characteristics of the terrain on which you are playing, be that an unkempt patch of rough, sandy bunker, or rain and other weather conditions.
Customize your avatar and outfit, then challenge your friends to a round!
LINE Let's Golf offers a variety of avatars, outfits, and clubs that all have their own unique abilities and can be purchased using the in-app currency. Controlling your own custom-built avatar adds a whole new layer of enjoyment to the game. There is also a competitive edge to the app that allows you to challenge your LINE friends using the ranking system to compete for the best score.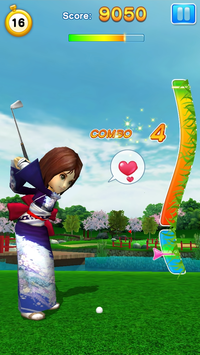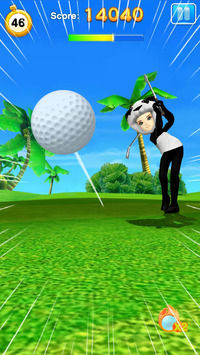 We hope you enjoy the lush, 3D courses and realistic golfing experience this game offers!
LINE Let's Golf
(FREE Download)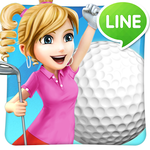 App Store
Google Play
https://play.google.com/store/apps/details?id=jp.naver.SJLGGOLF