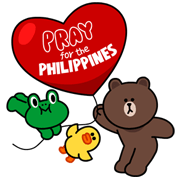 The "Pray for the Philippines" stickers have been on sale since November 15 to raise money for the victims of Typhoon Haiyan.
Thanks to the amazing response of people all over the world, we have raised 57,401,960 Yen as of December 15. This figure represents the total sticker sales after deducting Google and Apple's transaction frees.
We would like to thank everyone who has contributed so far for your kind support.
The "Pray for the Philippines" stickers will be on sale until December 31. When the campaign is finished, we will donate the entire sum to the Philippine Red Cross, and make a further announcement about the sum donated.
Thank you so much for your warm generosity and commitment to help.