Have you checked out the new version of LINE yet? Other than improving the quality of chats and voice calls, we have also added many exciting new features, including the long-anticipated video calls.
The new Snap Movie feature will be available first on iPhone. Create short video clips and spice them up with some music – now anyone can be a filmmaker! For more details, please see
this
article.
Snap Movies will also be coming to Android soon. Thank you for your patience.
Move the Sub-screen Anywhere You Like
Your friend's video will be shown full-screen, and your own video in the smaller sub-screen, placed in the top left corner by default. You can drag the sub-screen and reposition it anywhere you like simply by tapping it.
Choose Whether to Answer With Video
Got an incoming video call at a bad time or place? Tap "Answer with Voice Only" to answer the call without switching on your camera.
See Your Friends on an Even Larger Screen
Video calls are also available on the PC version of LINE. Make calls between two PCs, or a smartphone and a PC.
Continue Texting Even During a Video Call
Tap the icon at the top right of the screen to minimize the video and open the chat room to send location information and pictures even as you speak.
LINE's video calls also include other useful features, such as switching between the main and sub-screens, enlarging the main screen by double tapping it, and turning off your mic or camera in the middle of a call. Give it a try to see how much fun it can be!
Select a friend from your friends list and tap Video Call. If your friend answers the call, their video will be displayed on your screen, and the call will be connected in hands free mode.
To answer a video call with your camera on, tap Answer. To answer without switching on your camera, tap "Answer with Voice Only."
Shared Albums with All Chat Members
Create albums that can be edited by all members of a chat (one-on-one or group). Start a new album for each theme – your best friend's birthday party, last weekend's date with your darling, all the lovely meals you've had together with the girls, fashion ideas to be shared with the entire gang, whatever you want! All members of the chat can add photos to the albums.
How to Create an Album
1.
Open the menu in the chat room you wish to create an album for
2.
Tap Albums to view all the albums already created in that chat
3.
Tap "New album" to create a new one
4.
Select the photos you wish to upload to the album and tap Select
5.
Enter a name for the new album and tap Create Album to create it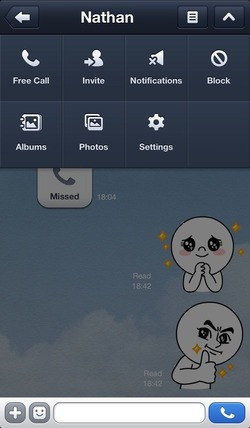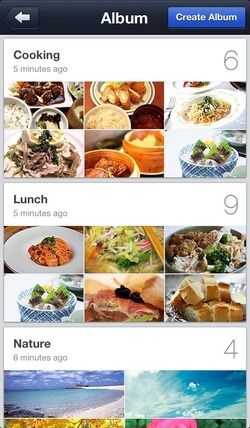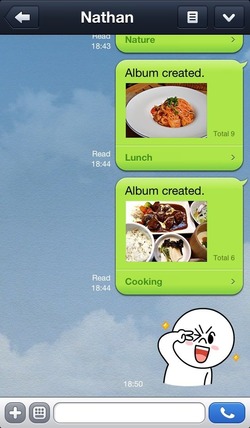 All members of that chat will then be able to add new photos to the album or delete existing ones. Photos sent and received in that chat room can also be added to the albums.
Privacy Settings for Individual Home/Timeline Posts
Worried about giving away too much? Select the privacy settings for each post you make on your Home/Timeline to limit its audience. Create lists for your classmates, colleagues, or family, and select a list to make each post visible to. Now you never have to worry about revealing private photos to people you aren't that close to, or spamming unrelated people with messages for specific friends.
How to Set Privacy for Each Post
1. Start a new post from your Home or Timeline
2. Tap the privacy icon, then select a list you wish to make the post visible to
If no list is selected, the post will be visible to all your friends, except those you have chosen to hide your posts from.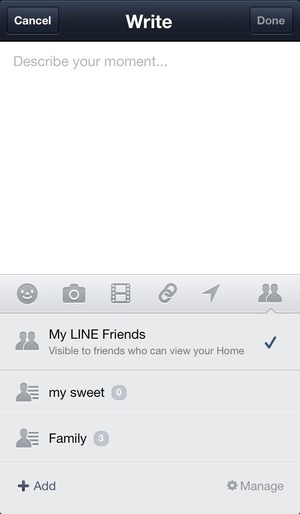 Remove Friends from Your Blocked/Hidden Lists
Now you can remove friends from your Blocked or Hidden lists. By doing so, the friend will disappear completely from your Blocked or Hidden list, but you will not be deleted from their friends list if they have not chosen to remove you too.
If you wish to send a message to the friend again after removing them, you will need to add them again using the Search by ID, QR Code, or Shake it! functions.
How to Remove Friends
1. Tap More > Settings > Friends in the LINE app, and open Hidden Users or Blocked Users
2. Tap Edit next to the name of the friend you wish to remove, then Remove
The new version also allows you to forward videos received in chats to other groups or friends.
Let LINE bring your loved ones even closer to you with new video calls. We hope you enjoy this update!