*We have corrected a misused expression in the note regarding the total number of registered users which may have caused misunderstanding among some readers. (14.30pm, July 24, 2013, GMT+9)
LINE has achieved a new record of 200 million registered users* worldwide on Saturday, July 21!
Since its launch in June 2011, LINE has grown to become a service enjoyed by users all over the world, reaching out from Japan to as far as Taiwan, Thailand and other Southeast Asian countries, the Middle East, Spain, India, and South America. We here at LINE would like to express our sincere gratitude to all you 200 million users for your support. Thank you for using LINE!

*All registered user numbers are for iPhone/Android/Windows Phone/BlackBerry/Nokia Asha/feature phone apps combined.
*Each LINE account can only be used on one device. The combined number of registered users refers to the total number of accounts created on LINE for all devices.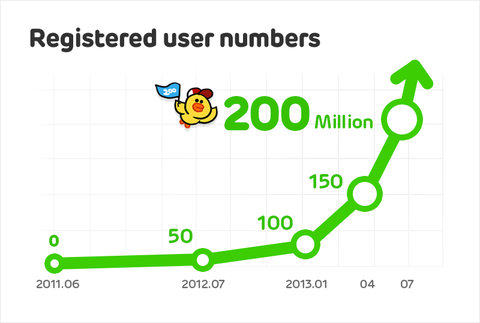 As a token of our appreciation, we will be making various paid-for LINE character stickers free for a limited period! Details are as follows.
Free LINE character stickers
4 sets of paid-for stickers featuring LINE's original characters will be offered free for one day each.
▼Details
Noon, July 23 (Tue) to 11.59am, July 24 (Wed) – Brown & Cony's Secret Date!
Noon, July 24 (Wed) to 11.59am, July 25 (Thu) – Cony's Happy Work Life
Noon, July 25 (Thu) to 11.59am, July 26 (Fri) – Moon: Mad Angry Edition
Noon, July 26 (Fri) to 11.59am, July 27 (Sat) – Sally: Special Edition
*All times are in Japan Standard Time (GMT+9)
▼How to download the stickers
1. Start up LINE and tap the More tab > Sticker Shop > NEW
2. Tap the sticker set to display its details, then tap Download
*Only available on smartphones (iPhone/Android)
*Stickers will be valid for 180 days from the day they are downloaded.
Besides providing the app, LINE has also taken various efforts to localize its service and contents for each country and region.
For example, we have offered special Brown and Cony Ramadan stickers to users in Islamic regions in conjunction with Ramadan, the month of fasting.
In Indonesia, we have also donated all proceeds for the sale of a set of orangutan stickers to a fund aimed at the conservation of this endangered species.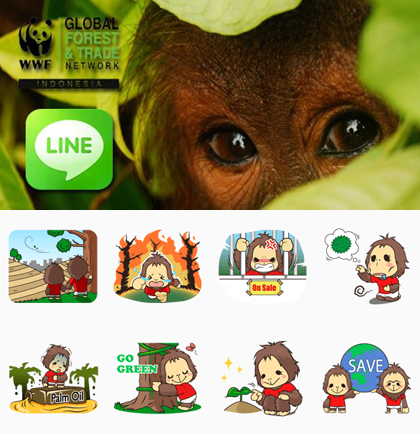 To share the outcomes of our various activities domestically and abroad, and our goals for the future, LINE will be conducting a business conference this August, entitled
Hello, Friends in Tokyo 2013
. 100 users will each win a pair of invitations to the event – you could be one of the lucky winners, so submit your entry today!
We will continue to listen closely to your needs and wants in order to make LINE a better service for each and every user. Your comments and feedback are always welcome!
Thank you once again for your continued support. See you again soon!