Ladies and gentlemen, boys and girls! For the first time ever, a Picture Pack featuring a celebrity has been released on LINE Hidden Catch!
ayupan, a character representing Asian diva Ayumi Hamasaki, is here to test your observation skills! This Picture Pack contains exclusive scenes of ayupan viewing fireworks and shopping together with all the familiar LINE characters.
・Pack name: LINE×ayupan
・Price: 30 Gems
・Availability: From July 12, 2013 (Fri), ending date to be announced
LINE Hidden Catch will continue to bring you exciting new Picture Packs for your enjoyment. Check out the app now to see what's available!
LINE Hidden Catch
(free download)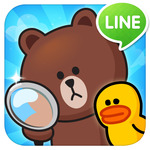 iTunes Store:
http://itunes.apple.com/jp/app/id577012531
Google Play:
https://play.google.com/store/apps/details?id=jp.naver.SJLGLINEHC