It's already been two years since the birth of LINE, and the service has grown into one loved by hundreds of millions of users worldwide. This is all thanks to YOUR support, and we here at LINE would like to express our sincere gratitude. Thank you!
Last summer, we held an event named
Hello, Friends in Tokyo 2012
to share LINE's achievements in its first year, and its aims and targets for the next. This summer, we are holding a second event on August 21 for everyone involved with LINE, and it will be named Hello, Friends in Tokyo 2013!
At this event, we will be looking back at LINE's second year, and share where LINE will be heading in the future. Live streaming will be available in English and Japanese at the special event website. Tune in to be a part of the event, no matter where you are!
Special event website: http://line.naver.jp/event/2013/en/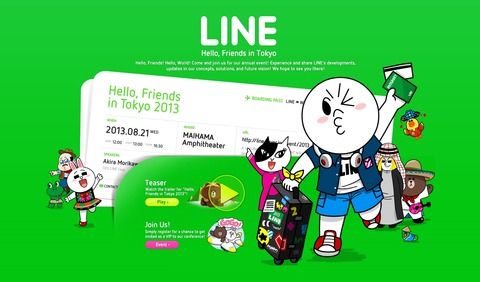 Want to get even more involved? We are excited to announce that you, our valuable users, can win invitations to the event!
Though business announcements will be the main attraction of the event, we will also be setting up exclusive game and photo booths, selling LINE character goods, and giving away special presents for the enjoyment of all guests.
100 lucky users will each win a pair of invitations. Make it a date with your best friend or family, and enter the draw today!
Please read the following details and enter through the Entry Form below.
*closing of subscription
・Event name
Hello, Friends in Tokyo 2013

・Date
August 21, 2013 (Wed) Doors open: 12pm/Start: 1pm/End: 4.30pm (GMT+9)

・Venue
・Event details
We will be speaking about LINE's past and future business developments to the media/press and partner businesses.

・Total number of invitations
100 pairs by lucky draw. Each lucky draw winner can bring one guest.
・Entry date
July 17, 2013 to July 23, 2013
*closing of subscription
・Draw result
Winners will be notified of the draw result by email between July 29, 2013 and July 31, 2013. You will need to fill in your mailing addresses through a form in the email. The invitation will be sent to the mailing address submitted.
・Eligibility
All entrants and their guests must be above 18 years of age. Members of the media/press should not enter this draw.
・Note
・Individual inquiries regarding draw results will not be entertained.
・Invitations are non-transferrable or exchangeable for cash.
・LINE Corporation will absorb the return transportation expenses to the event venue and accommodation expenses within Japan for winners residing outside of Japan.
・You will be attended to in English throughout yourstay in Japan.

・Other
・Live streaming of the event will be available on the special
event website
.
・Simultaneous interpretation will be provided at the venue in English, Korean, Chinese (Mandarin), Thai etc.
We hope the event can get all participants and viewers of the live stream excited about LINE's future. Hope to see you there!