LINE PokoPang, a revolutionary puzzle game, is now available on LINE GAME!
Help Pokota the pink bunny and his Animal friends fight the Monsters invading their village in this cute action puzzle game!
It's simple! Just draw a line with your finger to connect 3 adjoining Blocks of the same color. The connected Blocks will explode, firing veggies at the Monster! Beat as many Monsters as you can in the time limit of 1 minute and help restore peace to the Animals' village!
Tip: join as many Blocks as you can in one line, as quickly as possible!
You can get all kinds of useful items by joining more Blocks in one line, such as Cherries, which are needed to upgrade your Blocks, and Bombs, which can eliminate lots of Blocks at one go! Eliminate Blocks quickly to enter a crazy Fever Mode to really leave your friends behind on the rankings!
With the upgrade function and Helping Animals, you've got nothing to fear!
You will need to upgrade your Blocks in order to defeat the increasingly powerful Monsters.
By upgrading the attack power of your Blocks, larger veggies will be fired, causing more damage to the Monster.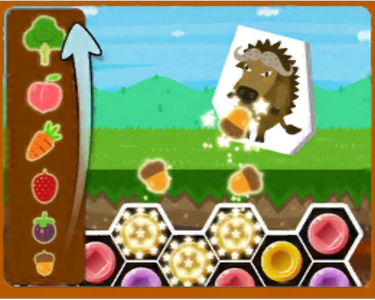 You can also summon Helping Animals, such as lions and bears, and make them your buddies. Work together to knock out the Monsters with powerful tackles!
The game operations may be simple, but you'll really need to strategize to eliminate Blocks efficiently and use the items at the best timing! The adorable Animals are also a delight to collect. You won't find another game quite like this!
There are over 100 Monsters in total. How many will you be able to defeat?
Login with LINE to make it even more fun! Compete with your friends in the ranking and send Clovers (one Clover is needed for each play) to one another.
LINE PokoPang (free download)