We are very excited to announce the release of the English version of LINE's official avatar community service, "
LINE Play
" today!
LINE Play allows you to design your own avatar character and explore the LINE Play world. You can visit other avatars' rooms and chat together with users from all over the globe.
Anyone who is a LINE user can create their very own avatar and start enjoying the game instantly.
Download links are as follows:

Let's create an avatar!
LINE Play allows you to create your own original avatar which you can then use as an alter-ego in the LINE Play world. Express your creativity by choosing from a wide range of eye shapes, skin colors, hair styles and facial shapes too. You can even style them up the way you want with many genres of fashion for you to use as you wish!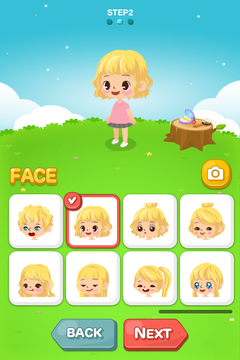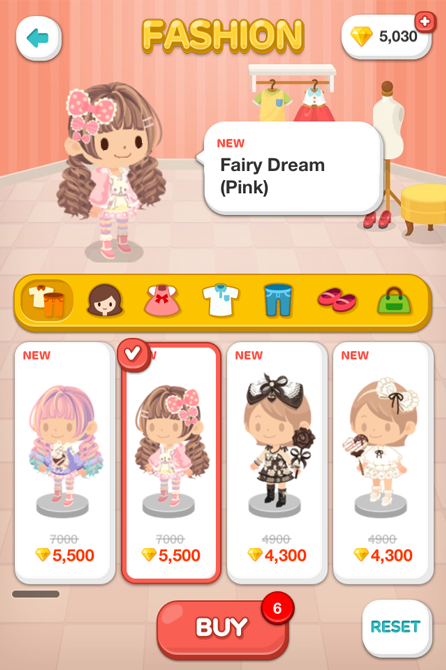 Decorate your room!
Enter your room on LINE Play ("My Room") and do some interior design by buying new furniture! That's not all! You can even buy food, wallpaper, window frames and plants to add to the styling. These can all be purchased from the Shop using "Gems" – LINE Play's virtual currency, which you can get by doing various tasks within the game. Simply tap the balloon above your avatars head (or your friend's), which illustrates how your avatar is feeling to get these Gems. You can also give your friends "Hearts" once a day, as well as eating and cleaning to get more Gems. You can check how rich you are in the game at any time by checking the top-right of the screen.
Connect with your LINE friends!
You can check your list of friends by tapping "Friends". At "Friends Requests", your LINE friends who are already on LINE Play will be shown under "Friend Recommendations". You can also configure your settings to prevent you from being displayed in the search results if you wish to do so.


Need inspiration to decorate your room? Well, there is also a Random Visit feature where you can visit random rooms of other avatars, even if you are not friends with them! Of course if you do not wish to be visited by random users, you can configure this in the settings menu also.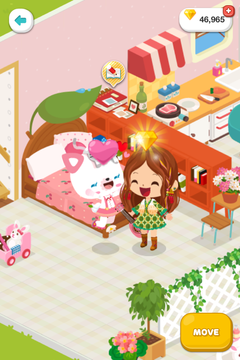 Chat with friends!
Yes! LINE Play lets you chat with friends too. You can chat in similar ways as you would with LINE but there is also a new feature called Action Stickers which you can use to make your avatar do funny things – like making it rain in the chat-room etc. Try it now!
Chat about the things that interest you!
The Lounge is a place that brings all the LINE Play avatars together to chat about anything and everything. Simply choose a lounge that suits you and chat about the topics you want with other users. There are various categories for you to choose from such as TV, sports, music and much more. You're guaranteed to find one which is perfect for you!
It's Diary time!
Write your everyday thoughts and feeling as well as posting pictures. Other users can leave comments and communicate with you using LINE's famous stickers!
We hope you enjoy this new, alternate smartphone world - Play together with your LINE friends and keep your friends even closer!