The new version of LINE for iPhone released today (ver.3.4.0) has the feature we have all been waiting ages for!
Yes! In addition to the usual improvements, with this new feature you can now send sticker gifts to friends.
Sending and receiving sticker gifts
As some of you may know, the
Android version of LINE
has had this feature for some time. But now iPhone users can join in the fun and send stickers as gifts to friends and family.
You can send gifts on the iPhone version of LINE by purchasing Coins. You can keep a record of what stickers you have sent and received by going to More > Settings > Stickers > Gift Box.
*Coins can ONLY be used for sending stickers as gifts and cannot be used for purchasing stickers for your own use.
*When switching devices, please note that Coins cannot be carried over if switching to a device with a different OS (e.g. iOS to Android).
▼How to send a sticker gift
1. Tap More > Sticker Shop
2. Select the stickers you would like to send as a gift
3. Tap Send as a Gift
4. Select who to send the gift to
5. Tap the
Gift Character
you wish to use. This will be sent to the chat-room to notify your friend of the gift.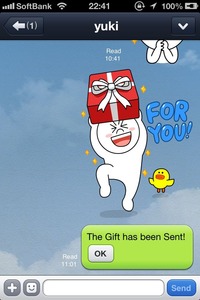 ▼To buy Coins
1. Tap More > Settings > Coins (for gifts)
2. Tap Charge on the top right
3. Select the amount of Coins you wish to buy
▼How to receive your gifts
1. When you receive a message in the chat-room notifying you of the gift, tap
See it!
and download the stickers.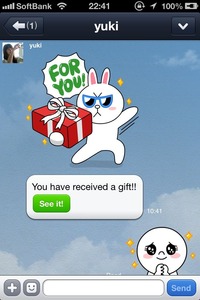 Sticker Gifts: The perfect way of expressing thanks! You can also use it to say "Merry Christmas" or as a New Year surprise! The choice is yours!
Improvements to LINE's Notification Settings
You can now choose whether or not to receive notifications from linked apps (such as games etc.)
These notifications include invitations and notices of new gifts etc.
You can change the settings as follows:
1. Tap More > Settings > Notifications > Additional Services and choose the app you wish to change the notification settings for.
2. Select the appropriate settings for Receive Messages and Receive Notifications by switching them ON/OFF.
If you switch Receive Messages to the OFF position, you will not receive any messages from that app on your LINE account.
If you switch Receive Notifications to the OFF position, the messages will be sent to the LINE chat-room, however you will not be notified of such messages.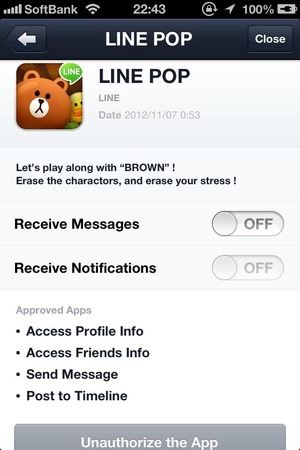 We've also made other improvements, such as adding a Report function for reporting spammers, as well as increasing language support (Spanish). We have also made a winter version of our LINE icon. We hope you enjoy these new features wherever you may be!
Of course, we will continue to improve our services and will always do our very best to cater to your feedback.
Thanks for reading and have fun sending those gifts!