The 2nd gaming app released by LINE, "LINE PATAPOKO ANIMAL" is a new kind of target-practicing puzzle game. A unique and exhilarating story where you have to, "stop the animals from escaping their picture book world by throwing vegetables at them."
How to Play:
Touch the animals to throw vegetables at them! Tilt your smartphone, adjust the trajectory and fire your vegetables! You can get a chain of animals by firing into a pack of them. When the heat gets too much, you can use the lightning bolts to clear many of them at once!


2 modes of play, both as great as the other: You can go through the 72 magical levels filled with surprises or you can play the Challenge Mode where you can see who gets the highest scores amongst your LINE friends!
Enjoy this fantasy world, full of weird and wonderful creatures!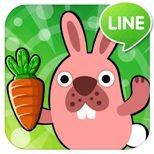 Download LINE PATAPOKO ANIMAL (free) here: