We're excited to introduce two new helpful features in the latest version of LINE: Ladder Shuffle and Relay.
In the past we've added features like
LINE Schedule
and
group video calls
to help you close the distance when talking with friends and family. Now with ladder shuffles and relay posts, it's even easier to sync up with those important to you!
Read on to find out what ladder shuffles and relay posts are all about.
Ladder Shuffle
Ever tried to figure out who should be responsible for what in a group? Now you can get it done in a fun and fair way with Ladder Shuffle!
Use it for when you need to...
• See who has to pay for everyone's drinks
• Figure out who's bringing what for tomorrow's game
• Decide who gets to pick the next restaurant in your lunch group
• Pick teams for the next round of your favorite online game
Best of all, it's super simple to use!
1. Head to the chat where you want to start a ladder shuffle. Open the "+" menu and select "Ladder shuffle."
2. Select the participants for your ladder shuffle.
3. Enter each result option for the ladder shuffle.
You can enter a result option for every participant, or leave some blank by default for as an "X" result.
Tap Start to create the ladder shuffle and share it in the chat.
Since the ladder shuffle is shared in the chat right when you make it, your friends can't miss it!
If you and your friends can't decide on something just by talking, why not give Ladder Shuffle a try?
Let the ladders decide!
Relay
With relay posts, you and your friends can share photos, videos, and text with each other all in one themed album.
Now it's simple to organize everyone's photos, videos, and text in one neat relay post. The themed relay post will also be shown on Timeline for other friends to view if you wish.
You can even make a public relay post and try getting lots of people to contribute!
With a public relay post, any LINE user can view and contribute to it. Share some of your favorite hobbies and see what gets added to the relay post.
Relay posts are perfect for...
• A long-awaited reunion of friends—share everyone's photos in a relay post!
• Your favorite singer's concert—join up with other fans and check out their shots!
• The start of sunflower season—make a public relay post and trade sunflower info with people all over the world!
• Touring your favorite coffee chain—learn more about each shop's specialty drinks!
Your relay post will show up on Timeline in a easy-to-read slideshow format.
It's simple to get a relay post started!
1. Tap Relay at the top of Timeline.
2. Enter the theme of your relay.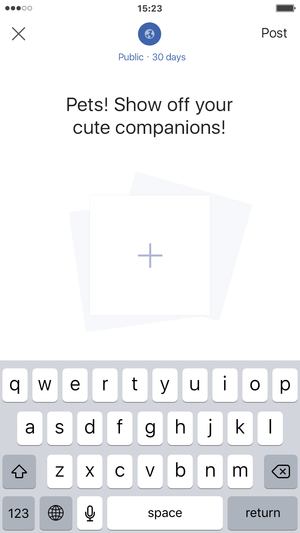 3. Set who can participate and the relay period.
You can set up the relay post to only be visible to a specific group or a custom list of friends.
4. For the first entry in the relay, you can upload a photo or a text card.
If you select a photo, you can also draw on it to add a personal touch!
5. Tap Post in the top-right corner to finish! The relay post will appear on Timeline for people you've selected to share it with.
If you turn on the "Notify friends" option when making the relay post, your friends will get a notification to join the relay as well.
We hope you enjoy discovering Ladder Shuffle and Relay with your friends!
==========================