In LINE 6.9.0, Timeline gets a huge upgrade with plenty of new features to make communication easier than ever.

The iPhone version of LINE 7.1.0 was released on 2nd December 2016.

Update to the latest version of LINE now!
(You will be taken to the relevant app store.)



Timeline is better than ever

Spread the love with likes for comments
Any time you find a funny or surprising comment that deserves a like, it's only a simple tap away.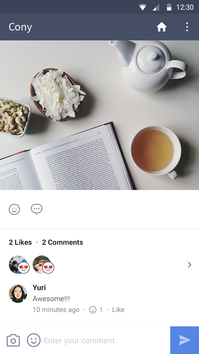 We've also made Timeline a safer place to be. You can easily report any inappropriate accounts or comments with our new Report feature.


You can report an account from the upper-right menu in that account's Home. Report buttons for individual comments can be found by swiping left on the comment.



Get your point across with larger text
You can now make your text in Timeline posts larger to help them stand out.

More timing choices for self-destructing posts!
Self-destructing posts can now be set to delete themselves after one hour or six hours, in addition to the existing 24-hour option. If you've ever thought, "I only want this to be visible for one hour," or "This is a good post for the evening, but maybe it should be gone by morning," you can now make that happen!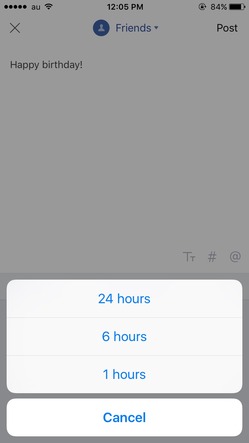 There are even more great features, like fun, animated reactions when you give likes and the ability to mention friends in your posts with the new @ button.


We're sure that these new improvements will help you communicate even better with friends on Timeline!


Stickers have been moved to the bottom of the screen on Android
We've moved the sticker selection area from the top of the screen to the bottom on Android.



Discover new stickers with sticker suggestions (iOS only)
Explore the wide variety of stickers on LINE with sticker and emoji suggestions based on what you type. Now, both stickers you own and stickers we think you'd like are displayed.


Stickers you don't own are marked with a lock icon. Tapping a locked sticker brings up a link to that set in the Sticker Shop.


If you like the sticker set, then you can easily go to the Sticker Shop to download it!


How to use sticker suggestions
Tap More > Settings > Stickers, and go to Display Suggestions to change your settings. (You cannot selectively enable or disable unpurchased sticker suggestions.)



You can do more than ever before with Timeline. We hope that you take advantage of its new features for even better posts. Have fun posting away!