You can now use the new Poll feature on
the Android version of LINE
today!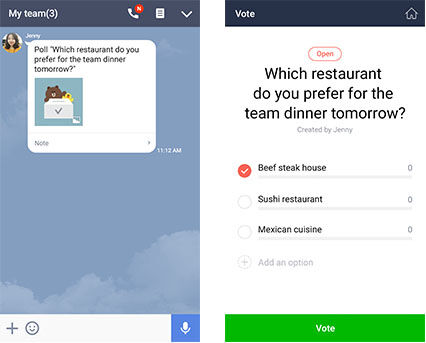 You can now easily make polls in LINE groups such as, "Where will we meet tomorrow?" and "Where should we go this summer?" to quickly get everyone's opinions.
Making polls is easy!
Polls can be made in any group you are a part of.
Once you're in the group chat you want to make a poll in, tap the "+" icon and then select Poll.
Set up your poll questions, a closing date, options like Multivote, and then just tap Done!
Your new poll will then be posted to the group chat.
The poll creator can also edit the poll question after the poll has been created!
The voting page is also simple to use.
Have so many members in a group that you can't organize everyone's opinions? Or can't get a few people to speak up? The Poll feature should fix those problems!
Together with the Schedule feature, we hope that the new Poll feature makes it nice and simple to meet up with friends!
Try it out today!