Have something you've been meaning to say, but couldn't find the right time or place to say it?
To celebrate, LINE will be hosting a ceremony at Times Square, featuring appearances by Brown and Cony as well as plenty of LINE's iconic green to decorate the town.
As part of the celebration, we're offering a voice on Times Square's most iconic building to LINE users everywhere!
The messages of approximately 20 users will be chosen from a pool of submissions and broadcast on the world's most famous billboards.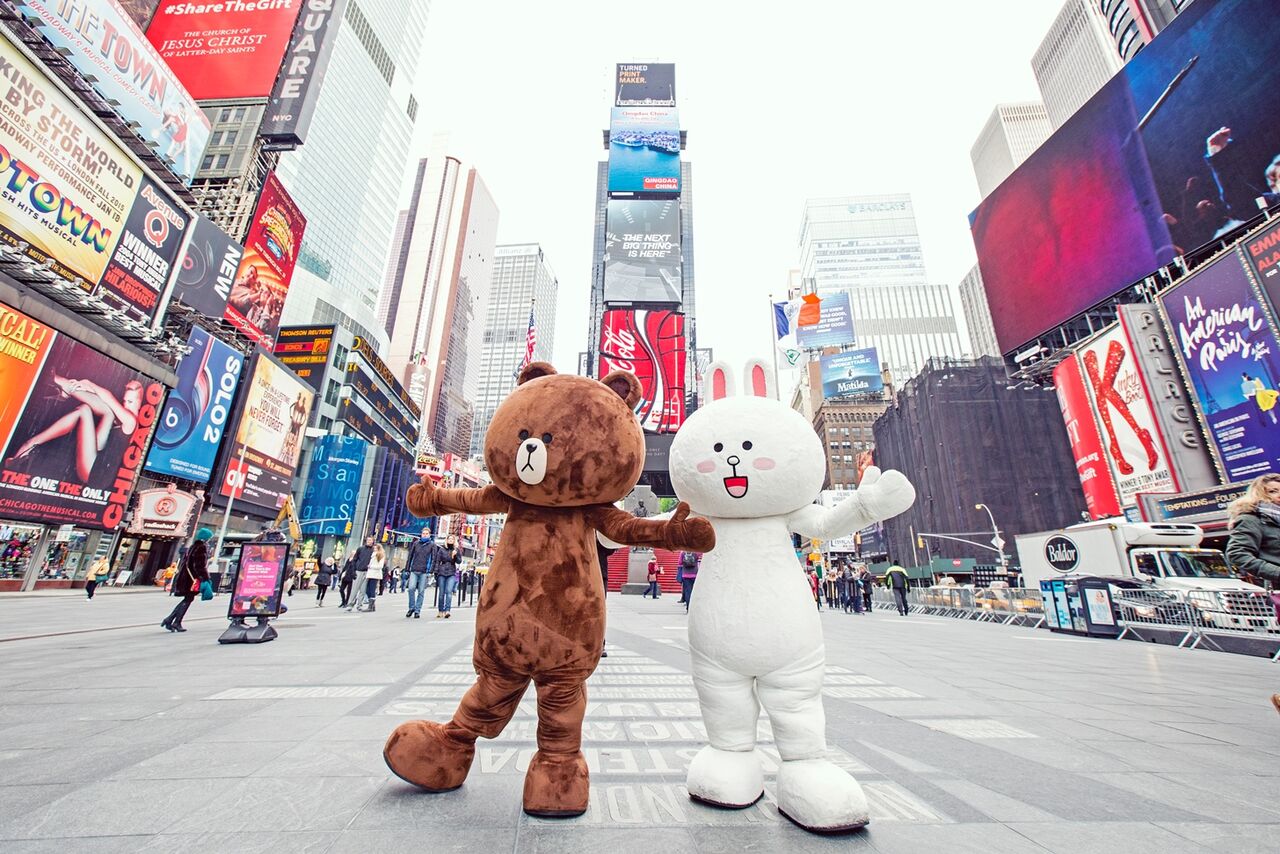 Messages will be broadcast on the highest screen of the building visible in the center as well as on the surrounding screens.
Let that special someone know how much you care about them by sending them an unforgettable message from the most famous screens in the world!
Your intended recipient won't have to go all the way to New York to see your message, as images of your billboard will reach them in the following days.
Brown will take it upon himself to carry your messages safely to Times Square, so be sure to participate if you're a Brown fan!

Submission period
---
Message submissions
July 5 to 6 pm on July 6 (GMT+9)
You will be contacted individually by July 7 if your message is selected.
Post-event blog entries
---
Blog entries detailing winning messages, complete with images of messages as they appeared in Times Square, will be released on July 15 (GMT+9).
Submitting messages
---
Submit your messages either through LINE or Twitter.
A. Submitting through LINE
1. Friend the LINE Team official account.
2. Open the submission form from the official account's Timeline and fill in the required fields.
B. Submitting through Twitter
1. Follow @line_global
2. Together with the #LINEgoesNY hashtag, enter a message within 40 characters.
Tweet #LINEgoesLINE
Ex: Marry me, Miki!
Ex: Dear Dad, Thanks for being the best dad ever. From Yuko
- Character limits may vary based on the size of the billboard. We may ask you to edit your message down for size.
- Your message can be in any language.
- Any attached images or videos will not be shown on the billboard.
- Messages that are offensive or reveal personal information will not be accepted.
LINE supports your efforts to getting your message across to the people who matter most, across space and time.

– CLOSING THE DISTANCE –
Please note the following when applying

- Participants may submit as many messages as they like; however, each participant is only eligible to win one of the contest's available slots.

- Winners will be notified via Direct Message by LINE's official Japanese Twitter account (@LINEjp_official) with instructions about any procedures they must complete. - Participants who submit entries through LINE will be notified by LINE's official Japanese account.

- Twitter users who protect their tweets are not eligible to participate in this promotion.




Please also note

- Entries with content that violates any law, is offensive, slanders a corporate entity, or violates another party's intellectual property rights are strictly prohibited.

- LINE does not accept inquiries pertaining to the selection process or the contest itself. Thank you for your understanding.

- Any data charges incurred by participants as a result of participating in this promotion shall be paid by the participants.

- Winners may not transfer any benefits they procure to a third party, exchange them for money, or change them.

- LINE reserves the right to post any entry (limited to the content of the entry itself) to its website and other media channels without prior notice and regardless if the entry is a contest winner.

- If LINE deems that a single participant has submitted entries from multiple Twitter accounts, that participant's entries will be disqualified.

- This contest is not affiliated with Twitter.

Limitation of liability

- LINE does not assume any responsibility or liability for damages caused by the interruption or cancelation of this contest due to a technical issue with Twitter or any other application used as part of the contest.

Use of personal information

LINE Corporation uses personal information acquired through this contest for the purpose of administering prizes to winners, confirming winners' identities, contacting event participants, and conducting all contest procedures.

All other personal information is handled according to our Privacy Policy.

LINE Corporation Privacy Policy