With today's release of
version 6.4.0 of LINE for iOS
, users can now back up their chat history on iCloud. This update means that you will now be able to preserve your previous chat history after changing to a new iPhone.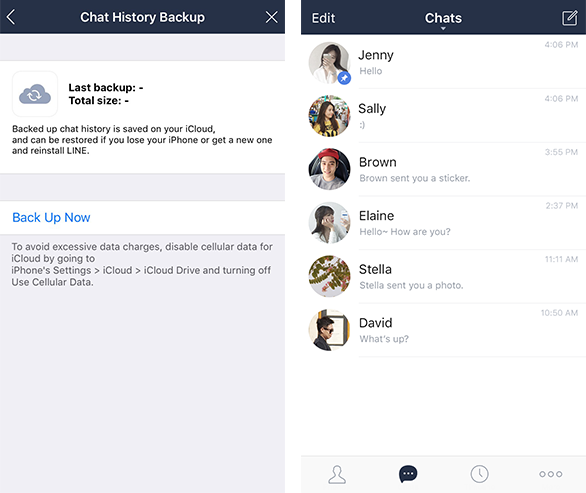 The update also introduces a new pinning feature! Pinning chats allows them to always appear at the top of your chat list for easy access.
iPhone chat history backup feature
The highly requested ability to transfer and preserve chat history is now possible on iOS through iCloud.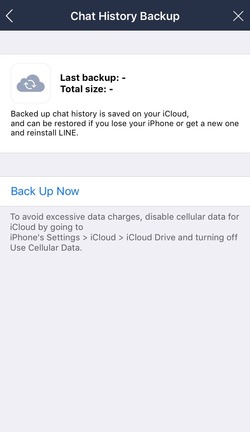 Backing up your chat history from your LINE app, go to More > Settings > Chats & Voice Calls > Chat History Backup.
Your chats will be saved to iCloud, making it easy to restore chat history when installing LINE on a new iPhone.
It is recommended that you disable cellular data use from iCloud's settings when using a limited data plan. From Settings > iCloud > iCloud Drive, disable Use Cellular Data.
- You may not be able to back up all of your chat history depending on the amount of space you have available on iCloud.
- You cannot transfer chat history from Android to iOS devices. (Chat history can be transferred between Android devices.)
- This feature is available on iOS8.1 or higher.
Keep your favorite chats at the top with the new pinning feature!
Keep chats with friends, family, and other important people from getting buried in your chat list.
With the new pinning feature, you can now always keep these important chats at the top of the chat list where they belong.
To pin a chat to the top of the chat list, swipe it to the right, and tap the pushpin icon.
Check up on important work-related chats and keep your family and friends close at hand with this handy pin feature.
The update also adds the ability to quickly mark a chat as read by swiping right on it and tapping Read.
Hiding, deleting, and marking chats as read has never been easier!
Other updates
- Options to send photos in their original image quality and to convert video sizes have been added.
We'll keep doing everything we can to provide you with the most convenient and secure LINE possible. We especially love hearing suggestions from you!