As we announced at
LINE Conference Tokyo 2016
last month, LINE strives to create a more open platform for connecting businesses and individuals. As part of this effort, we are building a framework from which our users can more easily access services over LINE.
BOT API is one part of this growing framework.
Previously, the bot messaging API was only affordable for large businesses, however, on April 7, we released the
BOT API Trial Account program
, open to anyone to build and use message bot accounts at no cost. Furthermore, we plan to release the full BOT API Account to the public this summer.
Take a look at a few of the over sixty bots already on LINE.
LINE Fortune (@lineuranai)
By entering "fortune" followed by the user's birthday, this bot sends the user their fortune for the day. By entering "alert" a user can set a specific time to receive their daily fortune.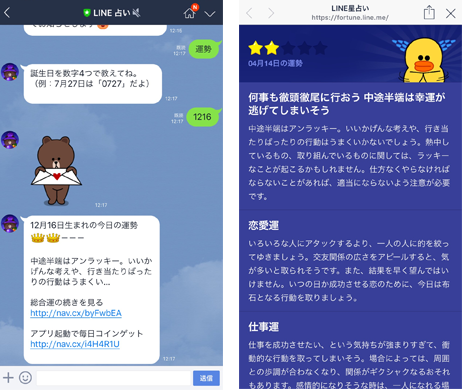 Fortunes come in general, work, and romance-related varieties, and offer a quick and handy distraction during morning commutes.

LINE reserve now (@imasugu)
This bot returns links to available restaurants in the user's area with seats available for the number of people the user enters in the chat window. Users can tap these links to instantly view details on these restaurants.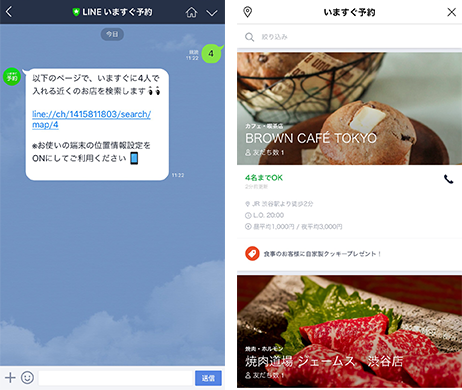 The bot also allows restaurants with open tables to be displayed in map view.
By following the bot, restaurant owners can update regular status on open tables. The bot uses easy-to-understand symbols to quickly transmit valid table status information to the users.
Panda-Ichiro (@froma)
Panda-Ichiro helps users look for part time jobs and calculate their salaries based on data provided by the part time recruiting site, fromA navi.

Panda-Ichiro sends relevant job postings based on the area and job category provided by the user.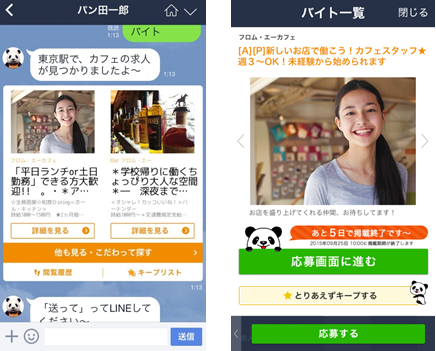 With the desired hourly salary and working hours the user provides, Panda-Ichiro will calculate the user's prospective monthly salary on the spot, and remind them of their next shift via chat message.
H.I.S. (@hisjapan)
This bot, provided by travel agency H.I.S., helps users reserve international plane tickets and displays useful information on H.I.S. locations.
The bot will offer relevant plane tickets and tour packages based on the user's travel destination and dates.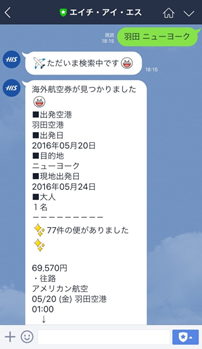 Rinna (@ms_rinna)
This AI bot developed by Microsoft Japan takes the form of a high school girl who responds to users in a natural, life-like conversational style.
In addition to participating in small talk, Rinna can weave the user's common expressions into haiku, grade the user's conversation ability in report card form, and when invited to a group chat, even send back face-swapped versions of photos posted to the chat group.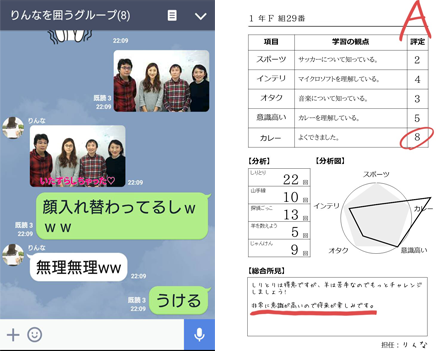 Domino's Pizza (@dominos_jp)
Part of the Domino's Pizza official account, this bot allows users to order pizza through friendly, casual chat.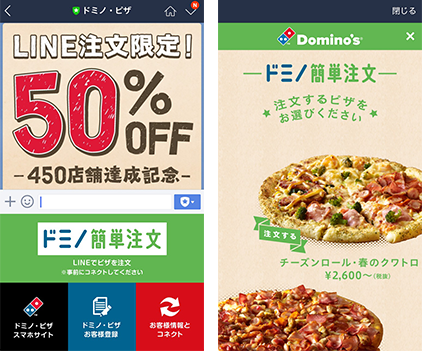 This account, perfect for users who prefer to avoid phone calls, was responsible for over JPY 100 million in sales only four months after its launch.
Translation Bot
On LINE, we have official accounts that translates you and your friends' messages!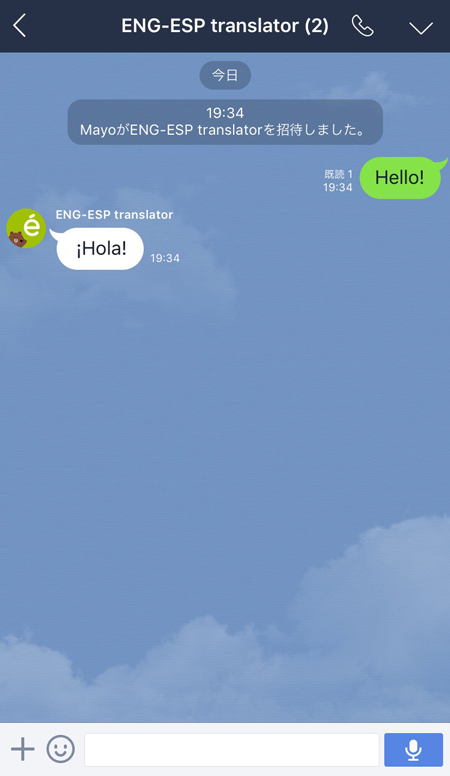 By simply typing a message to the translation bot, it will instantly auto-translate your message for you and send this to you as a reply.
These are just a few of the bots already active on LINE. By opening BOT API Account to the public, we expect to see many more new and previously unimagined bot accounts take the stage.
With messaging as a spring board for developing our wide range of communication services, we hope to not only help people connect with one-another, but also with the information and services that matter most to them, helping to fulfill our mission at LINE of closing the distance.
From the moment the day begins and throughout the day's activities, we hope to make LINE a familiar part of our users' everyday lives.