If you've ever found yourself talking on the phone and thinking "gee, it would be lots more fun to talk with everybody together," this is what you'll call a solution.
Starting today,
LINE
now offers a group call feature. You can use the feature to talk with up to 200 of your LINE friends at the same time, all for free!
What's more, this feature will be coming to LINE for Windows and Mac (versions 4.5 and later). That means you can literally be having a phone conversation on LINE and playing an online game at the same time!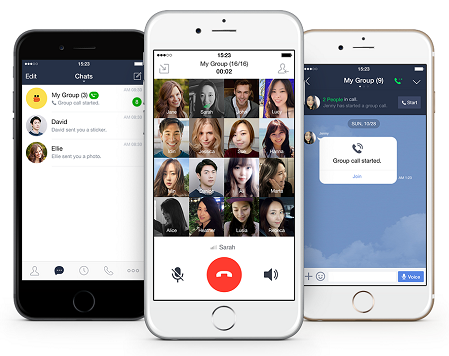 Just imagine the possibilities...
- It's girl's night out! And the fun won't stop even after you get home!
- It's the holiday season! Speak with the whole family back home together instead of one by one!
- Going on a trip? Get everybody coordinated, on schedule, and leave no one behind!
- Before big events! Whether you're performing in a play, or playing football, you can iron out last minute details for better results!
Plus this feature is coming to your PC too, and soon. That means you can literally be having a phone conversation on LINE and playing an online game at the same time!
No additional apps. Nothing to install. It's all on LINE. Experience an exciting new world of real-time group conversation!

How to start a group call
---
You can start a group call from inside a chat.
Enter a group containing the people you want to talk with, or open separate chats with multiple people. Then on the screen, tap the call icon and then tap Start.
The people in the chat will see a notification on screen. To join the group call, that person simply taps the Join button!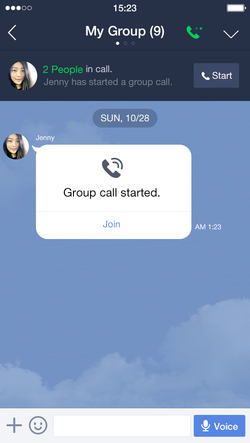 You'll need the latest version of LINE to use the group call feature, so be sure to update! Your LINE friends who are still using an older version of LINE will receive an update notice.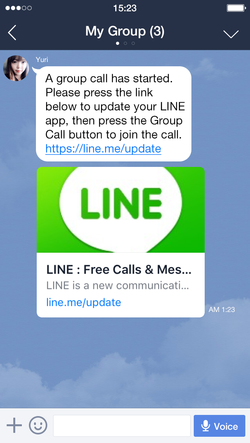 Intuitive screen makes it easy to know who's talking
---
The call screen displays thumbnail images of everyone that is currently part of the group call.
A special mark is displayed over the image of the person who is currently talking, so even large groups can enjoy conversations while avoiding chaos.
The new group call feature will totally change what you can do with your phone. Get together to gossip, discuss, report, brainstorm, fantasize, or just have fun.
Add a whole new dimension to your conversations with group calls. It's what everybody's talking about!