LINE TOYS is the latest release in the LINE GAME series! All your favorite LINE characters have been transformed into adorable plush dolls in this revolutionary sliding puzzle game. Mix and match your way through 7 different kinds of stages featuring a multitude of missions. The farther you get in the game, the more difficult the stages become. Get ready for a few surprises along the way as you tap your way to victory in time with the catchy background music!
With a grand opening event going on right now, there's never been a better time to play!
Keep an Eye on the Rows of Dolls Moving Side-to-Side and Match Them as Fast as You Can!
Story
Edward the Inventor was always an eccentric fellow. When a few of his friends confessed they were dealing with feelings of extreme isolation, he invented a doll-making machine to cheer up his lonely pals.
His friends were delighted and decided to throw a party in his honor. As luck would have it, an unfriendly wizard with a bad attitude showed up in the middle of the party and stole Edward's invention!
Now it's up to you to help Brown, Cony and friends get back the stolen doll-making machine.
How to Play
TOYS features rows of LINE Friends dolls that move back and forth horizontally. Slide the dolls around and time your moves to match up three in a row of the same kind of doll to make them disappear.
The more dolls you get rid of, the more points you earn. Use your match-tastic skills to eliminate as many dolls as possible within the time limit! Match 4 or more dolls to create a "Bomb" that can be used to blow up even more dolls. Things just got interesting.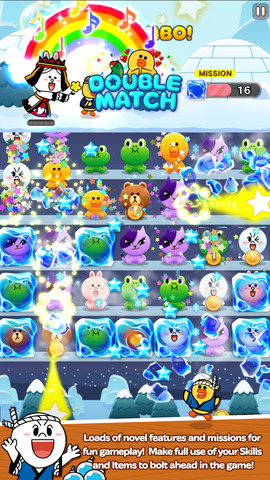 The game also features a fever gauge that takes players on an exciting trip to Fever Time. Eliminate dolls with zeal to fill up your gauge and trigger a parade of points you won't want to miss!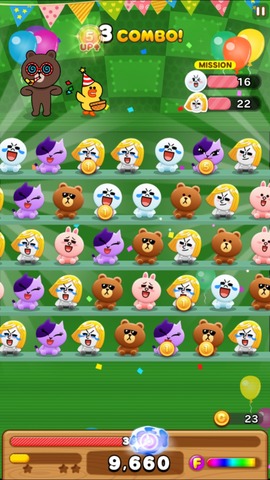 7 Types of Stages Complete with a Variety of Missions!
LINE TOYS features 7 different kinds of stages. At the time of its release, the game offers a total of 150 stages.
Map-based Mission Stages challenge players with completing specific tasks, such as achieving a certain score before time runs out or eliminating all of a certain kind of character. Boss Stages pit players against the big, bad boss, while Score Run Stages let users go head-to-head with their LINE Friends for the top score. With this much variety, LINE TOYS offers an almost endless supply of fun and engaging gameplay.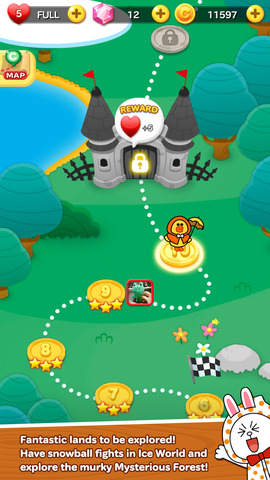 Eye-Catching Illustrations and Unique Skills! Over 40 Different LINE Friends in All!
TOYS offers a number of characters you can choose from to play the game. Each character comes with its own special ability. The characters themselves are a bit quirky. From school uniforms to maid outfits, the in-game wardrobe choices make even the cowboy costumed character look a bit tame. With over 40 LINE Friends to choose from, it's pretty much a given that you've NEVER seen the LINE characters like this!
The characters' special skills are also a work of art. Smatter the screen with a net full of fish to eliminate dolls, or run over an entire row of dolls with a hot rod to make them disappear. These unique moves are a force to be reckoned with. LINE TOYS offers a strategic element to the game by letting you pick your character based on the challenges each stage has to offer.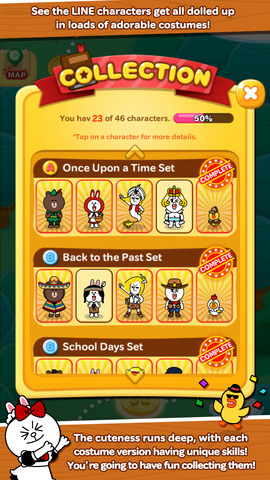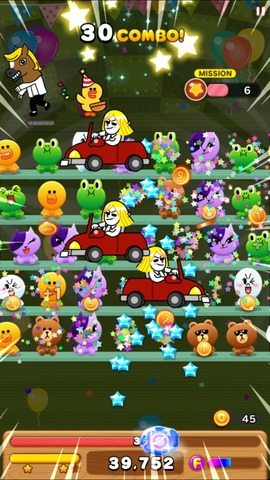 Grand Opening Event
To celebrate the release of LINE TOYS, a special login event and 50%-off Gacha sale are being held for a limited time!
- Login bonus worth JPY 1,900 (Till September 5, GMT+9)
- 50% off first-time Gacha purchases (Till August 31, GMT+9)
LINE TOYS offers a sliding twist on the classic puzzle game genre that promises to delight players of all ages!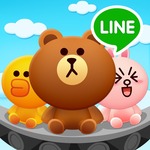 LINE TOYS (Free download)
App Store
https://itunes.apple.com/app/id949716217
Google Play
https://play.google.com/store/apps/details?id=com.linecorp.LGTOYS