Keep Your Things Close with the New Storage Feature "Keep"
---
Keep serves as a personal storage space for text, images, and other content you want to save with LINE. In addition to messages received on LINE, the new feature also allows you to store memos and photos* already saved on your device.
*The iPhone version of Keep does not let you save pictures from your Camera Roll.


Keep up with Your Stuff! Keep is Perfect for Storing the Following Info:
- The name of that store you were talking with your friend about
- The restaurant you just agreed to meet your significant other at on LINE
- The errand your family just asked you to run
- That important document your boss just sent you
- The awesome idea you had this morning
*Keep can only store files received on LINE.

Tap and hold the message or image you received on LINE that you want to save, and then select Keep.
*Images sent from official accounts cannot be saved with Keep.
Share content saved in Keep with your LINE friends straight from the chat screen!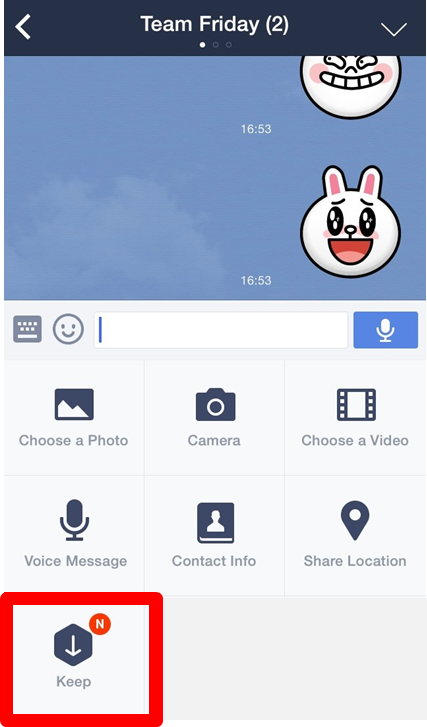 Get to Keep from your profile screen.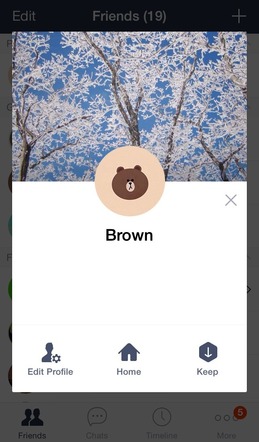 Keep lets you store up to 1GB worth of content for as long as you want. However, files over 50MB can only be stored for 30 days.
There are quite a few updates in the works for Keep! Before you know it, you may be sharing files directly with friends or even linking straight to other devices. Keep lets you check on your stuff whenever and wherever you are!
Status Messages Put a New Spin on an Old Favorite
---
"What's Up?" messages have been an important part of LINE friend lists everywhere for years – but no more! This fundamental feature has been reborn as Status Messages.
You can still write whatever you want in your status message. Tell others how you're feeling, tell everyone where you are, or simply share what's on your mind.
Your status messages don't get saved, so if you want to leave a record of your Shakespearean ramblings, be sure to post them to Timeline or save them in Keep!
You can also save all of your ol d "What's Up" messages in Keep.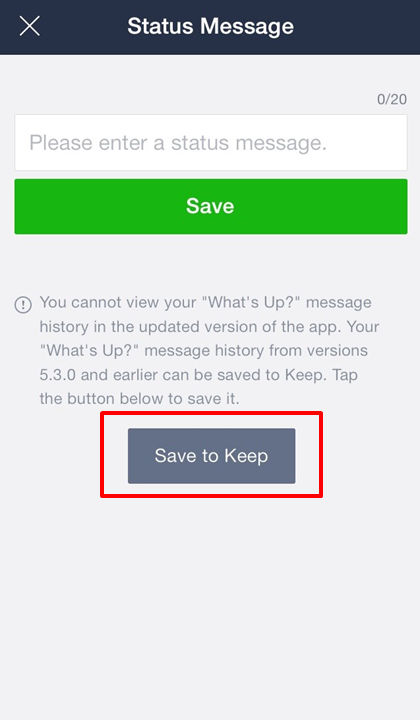 Customizable Chat Lists (Android Only)
---
It's easy to miss unread messages when you're on the go. Good thing the new Sorting feature eliminates this problem forever!
Rearrange your chats to display them by time received, prioritize chats with unread messages, or prioritize favorite friends. Click the icon in the top right corner of the chats list screen and select Sort Chats to watch the fireworks fly!

Selecting Stickers Just Got Easier (iPhone Only)
---
The sticker selection feature on the chat screen has been updated as well! Now you can scroll horizontally between sticker package as well as scrolling vertically through stickers inside the same package.
Now you can view up to 16 stickers at once!
We'll keep doing everything we can to provide you with the most convenient and secure services possible. We especially love hearing suggestions from you!
Update to the latest version of LINE