Hey there LINE Bubble fans! We've got some great news. LINE Bubble 2 has been released!
LINE Bubble 2, the successor to big hit LINE Bubble, garnered the attention of users worldwide with over 1.41 million pre-launch sign-ups in Japan, Thailand, Taiwan, and Indonesia. We appreciate all the support of our loyal fans!
Kick Off Cony's Great Adventure! Pop the Bubbles and Clear Stages to Advance!
LINE Bubble 2's story focuses on Cony's exciting adventure! In order to find a missing Brown, Cony must traverse a mysterious world while trying to solve its puzzles. LINE Bubble's adorable characters and rip-roaring bubble busting action are back and better than ever, along with a totally new variety-filled stage system including boss battles!
How to Play
Shoot bubbles up from the bottom of the screen and line up three or more of the same character to pop them. Complete the mission before your moves run out to clear the stage. That's all there is to it! Unlike LINE Bubble, there's no time limit, and the bubbles won't fall down to the bottom of the screen. So take your time, and figure out those puzzles!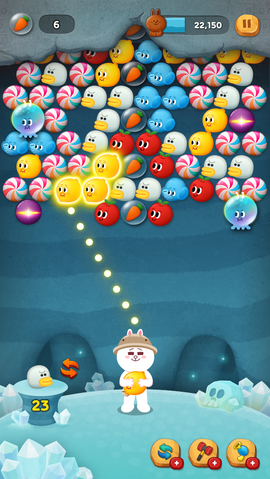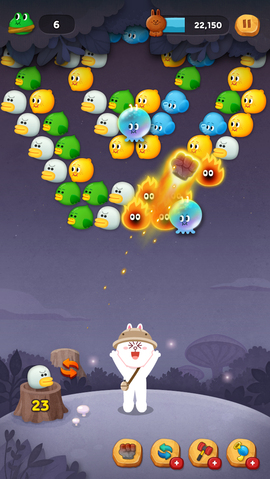 LINE Bubble 2 also sports an all new stage system, with grassy knolls, desiccated deserts, mystical forests, and so much more! Get going popping bubbles, and see what all these great stages have to offer! By getting high scores and collecting coveted Crystal Conys, you can compete with friends to see who's the real bubble master!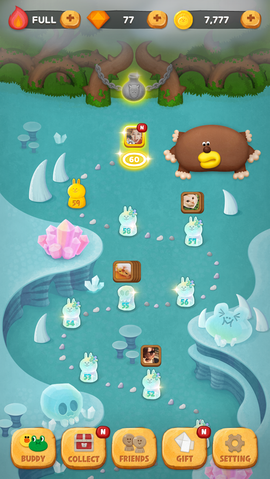 Lofty Bosses!
The last stage of each area houses a challenging boss waiting to take you on! In boss battles, the bubbles will drop down towards the bottom of the screen as time goes by. Knock those pesky bubbles out of the way to face bosses head on and give them a run for their money! Skillfully take down the boss's health gauge down to 0 to clear the level. You'll get a great reward for doing so!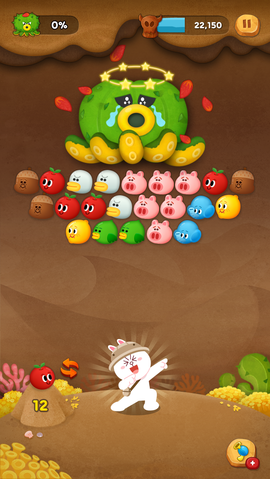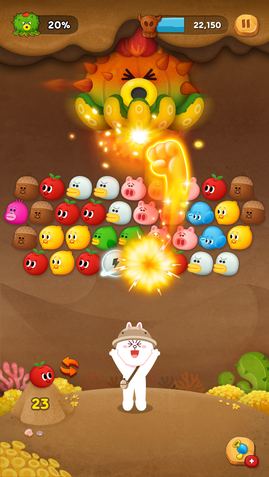 LINE Bubble 2 Release Commemoration Ruby Giveaway!
First, aim to beat all the stages in Episode 1! If you do this during the event, you'll get 20 Rubies! But wait, there's more! If you clear all the stages in Episodes 1 through 5, including their difficult bosses, you'll get an additional 50 Rubies!
Event Duration:
Till 11:00 am, May 15
Friend Invite Event
Get all sorts of cool gifts for inviting your LINE friends to play! One of the gifts, Water Play Sally, can only be gotten by inviting friends, so get cracking!
Here's the full list of all the gifts you can get for inviting friends!
10 Friends: Flame ticket (for 30 minutes of unlimited play)
30 Friends: 20 Rubies
50 Friends: Water Play Sally
We hope you will enjoy LINE Bubble 2's endearing story and all new gameplay elements. When will you start your adventure?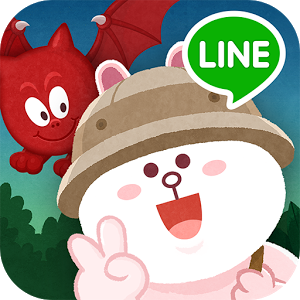 LINE Bubble 2 (Free Download)
App Store
https://itunes.apple.com/app/id895761422
Google Play
https://play.google.com/store/apps/details?id=com.linecorp.LGBB2