The world watched in eager anticipation as the new Apple Watch was unveiled today. LINE users everywhere will be happy to know that they can start using LINE for Apple Watch right away!
Whether you're rushing to work on a packed train, out for a Saturday jog, or simply whipping up a gourmet dinner for that special someone, the Apple Watch version of LINE is there for you when your hands are tied. Now you can stay connected with the important people in your life whenever and wherever you are.

Check Messages on Your Wrist and Reply with Stickers
---
Ever been tied up with something important when all of the sudden your smartphone starts vibrating inside your pocket... If only you could whip out your phone and check out what's going on, but you can't! With LINE for Apple Watch, now you can view your messages on your wrist whenever you want.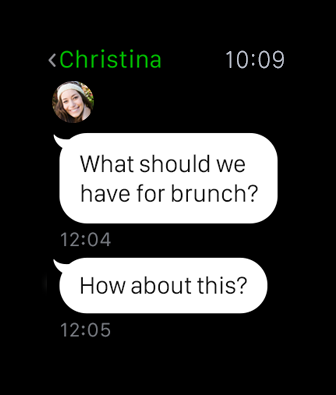 You can even view images!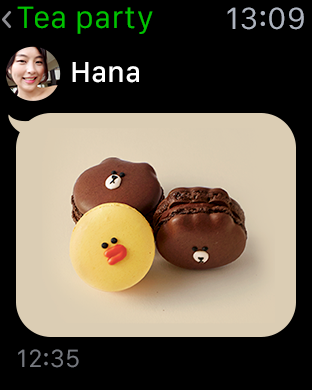 The app even includes a feature that lets you respond to messages with stickers. Let people know how you feel instantly!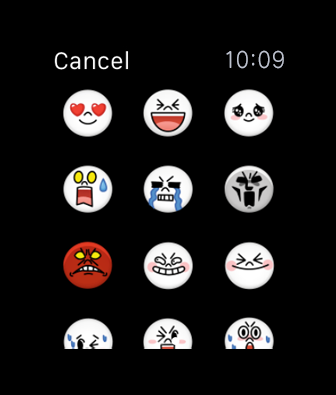 LINE for Apple Watch comes with 182 stickers and emoticons, giving you a variety of options to choose from.
The Apple Watch version of the app lets you respond to messages easily without having to take out your smartphone, offering a new level of convenience and opening up new avenues of communication with those around you.
Using LINE for Apple Watch
---
For those of you with an Apple Watch, simply link the device with your iPhone to start using the wrist-mounted version of LINE right away. To sync the device with your phone, just open the Apple Watch app on your iPhone! (iOS 8.2 or later required).
*You must already be using the iPhone version of LINE in order to use LINE for Apple Watch.
What LINE for Apple Watch Can and Can't Do

- View messages, stickers, emoticons, and images

- Reply to new chat messages with stickers and emoticons




- View already read messages again (LINE for Apple Watch only allows you to view unread messages)

- Make free voice or video calls to other LINE users or use LINE Premium Call

- View or post to the Timeline

- Use the Sticker or Theme Shop

- View the list of official accounts

- Use stickers purchased on the smartphone version of LINE
The new Apple Watch version of the app lets you customize your LINE experience like never before. Use LINE for Apple Watch when playing sports, the smartphone version of LINE when you're out and about, LINE for iPad at home, and the PC version of LINE in the office!
We hope you enjoy fitting this brand new LINE experience to your lifestyle!