The latest version of LINE for PC (version 4.0.0) has been
released
.
This update brings great news for those who use LINE for work on their PCs – the Posts and Albums features have been added, and you can now even share screenshots!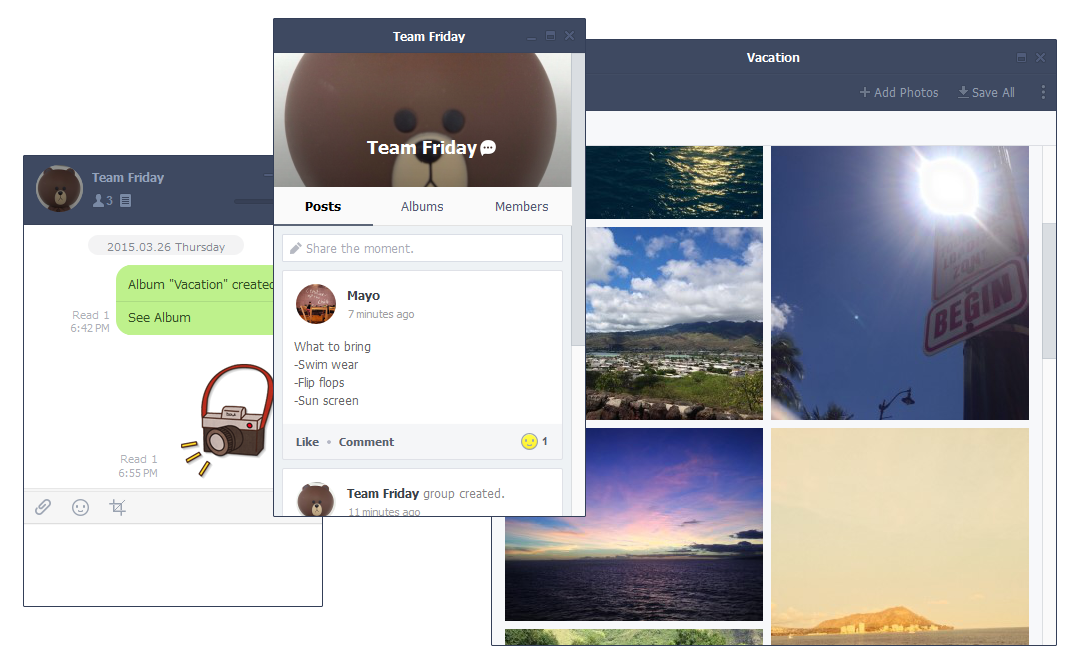 Animated stickers now move on the PC version, and searching chats is easier than ever.
Note: The Windows XP versions will also be available soon.

Enhanced Group Features
---
The Posts and Albums features launched first on smartphones are now also available in the PC version.
You can store information to be shared with group members easily, which is useful for both work and play.
View photos on the large screen of your computer, and even save multiple photos at once.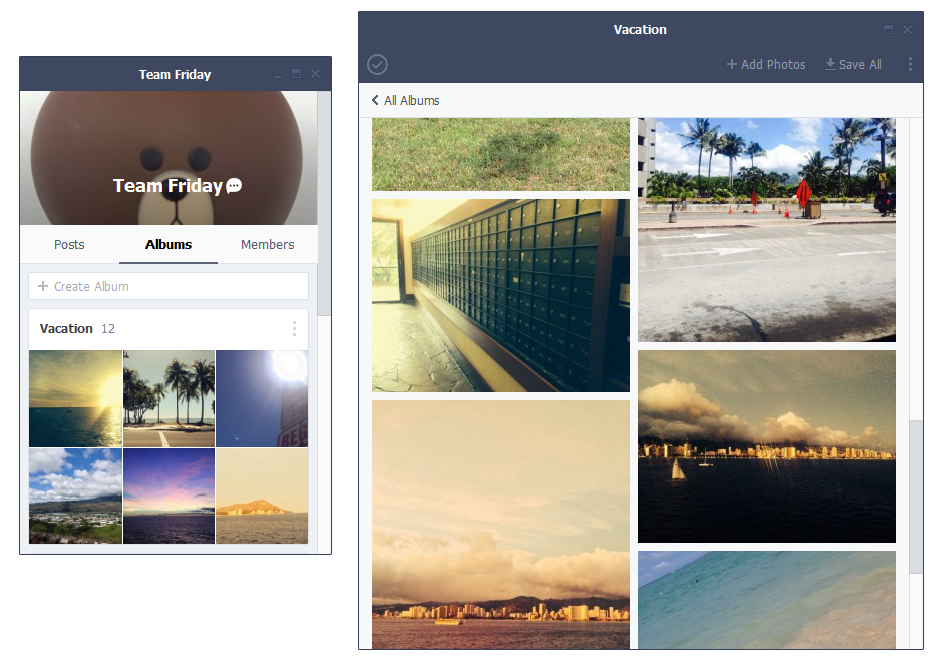 Posts and albums can be accessed anytime, anywhere, so use them in any way you like!

Tip: Create a group with you as the only member and use the Posts and Albums to take personal notes. It's a great way to create to-do lists!
Share Screenshots
---
In this update, we added a new feature used to take and send screenshots from the chat window.
When chatting with a friend on your PC, don't you wish sometimes that you could just show them what you're seeing? This feature is perfect for those times!
Select the capture icon on the chat window to take a screenshot.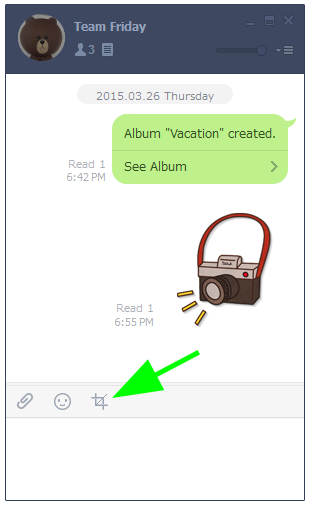 Select the area and the screenshot will be sent to the text entry field automatically. Simply press Enter to send it!
Sharing your screen makes it so much easier to share your thoughts with friends in remote places.
Enhanced Sticker Features
---
・See Sticker Previews in Pop-Ups
Follow what's going on in a chat even when you're too busy to switch over to that window.
The notifications feature has been upgraded so you can see previews of stickers sent in the pop-ups.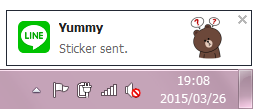 ・Animated Stickers Now Work on LINE Desktop
Till now, only static images have been displayed on the PC version of LINE. With this update, animated stickers come to life on your screen.
The sticker list in chat windows can now be resized, making it easier for you to find older stickers.
Other Features
---
Bring Chats with Unread Messages to the Top
It's easy to miss new messages when you're engrossed in your work. To help you stay on top of things, we've added this handy feature to sort chats by unread messages.
Tap the clock icon at the top right of the Chats tab to display chats with unread messages on top.
The search feature has been improved to include the following in search results.
・Chat messages
・Account names of friends in 1-on-1 or multi-person chats
・Group names
Copy and Paste Images
You can now paste images on your clipboard in LINE's text entry field, making it possible to send images by copying them.
View All Images Sent
You can now view all images sent and received in a chat, making it easier to find all images exchanged in the past.
Message transmission speed has also been improved, and audio files can now be played back within the chat window, making LINE for PC more versatile than ever.
If you haven't had a taste of how convenient and fun communication on LINE for PC is, now's the time to start!