There's a new way to communicate in the same way you've been using LINE that'll let you talk even to people that aren't your friends!
LINE@
, a new extension of LINE, was just released!
LINE@
is a service that allows you to communicate and share information outside of your close social network. Anyone can use it, including individuals, groups, and businesses. Use it to communicate with your customers, business connections, fans, and more!
Messages sent through the LINE@ app will be delivered to your LINE and LINE@ friends. Use 1-on-1 chats as well as send chats to all your friends at once.
Take a look at these examples for all kinds of ideas!
---
Hair Stylists
Manage reservations from customers faster than ever with a workplace LINE@ account.
Salesmen
Put your LINE@ account on your business card so customers can contact you in an emergency. You don't have to view any LINE GAME rankings or the LINE Timeline, so don't worry!
Online Shop Owners
Use the LINE@ Research feature to gather opinions from your customers! Get feedback in a way that only LINE can provide!
Restaurant Owners
Use LINE@'s message feature to send info about new menu items to all your friends. Use the Timeline to share images of delicious dishes as well!
Karaoke Booth Owners
Use just 1 account to manage your shop. Give your part-time workers admin access and update your account every day!
Youtubers
Share update information with your fans using LINE@! Receive individual requests from users and hear what they have to say to make them happy!
Bloggers
Use LINE@ instead of mailing lists! Ask what kind of plans your customers want and gather ideas!

What is LINE@?
---
The regular LINE app is meant to give users the opportunity to communicate with their family, close friends, and acquaintances. The new LINE@ app provides an option to stay in touch with customers, fans, work relations, and more. Sending messages is handled through the exclusive LINE@ app, so you won't have to worry about confusing it with the regular LINE app's chat or friends lists.

What Can I Do with LINE@?
---
・1-on1 chats
・Send mass messages
・Post notices on the Timeline
・Use multiple accounts for a variety of purposes
・Manage an account with multiple people
The LINE@ app is designed after the classic LINE app. It works just like LINE too!
Free or Paid?
Choose the Plan That Fits Your Needs
---
LINE@ offers both paid and free plans. The differences in features that can be used are the number of total messages that can be sent monthly as well as whether or not you can use rich messages (messages with links and images). For details on payment plans, please
check here
.
Choose Your Own ID with "Premium ID"
---
LINE@ provides you with a random ID upon account creation. If you want an easy-to-remember ID that you can post on pamphlets, business cards, and other marketing materials, you can choose the paid option of having a
Premium ID
that lets you choose any ID you want.
Monitoring System for Secure Usage
---
In order to ensure the security of all our users, LINE@ incorporates a monitoring system across part of its services.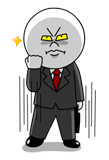 To prevent LINE@ accounts from being used for criminal or illicit activities, LINE incorporates a monitoring system for the two areas below. Any accounts found to be engaging in illicit activities will be deleted.
・Message content of mass messages
・Timeline posts
Please rest assured that in accordance with laws governing the protection of private information, 1-on-1 chats will not be monitored.
If you have any friends that are being a nuisance, then just like LINE, you can block them any time.
Use LINE@ Right Away
---
Register in 3 Easy Steps!
Are you already thinking of all kinds of exciting ways to use LINE@ to enrich your life? Making an account is easy, and you can try right away!
3. Choose your account name, profile pic, category, and sub-category
Your profile picture can be changed after a certain amount of time has passed since registration, but your account name, category, and sub-category cannot be changed.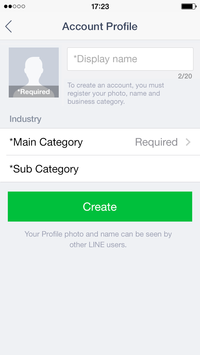 And that's it, you're finished!
You can start using your new account right away! Get acquainted with the app by checking out the detailed article
here
!
Use LINE@ as a business or shop owner to communicate with your fans and customers, or use it for a variety of other purposes to fit your needs! Use LINE and LINE@ to enrich your life!
LINE @

Appstore: https://itunes.apple.com/app/id958585781
Google Play:https://play.google.com/store/apps/details?id=com.linecorp.lineat.android

Search "LINEat" in the App Store or Google Play to find the app.