The newest version of LINE (version 4.9.0)
was released today along with a message search feature that allows you to search through chats for specific messages.
This feature is currently only available on the iPhone version of LINE.
*Android version was released too. (January 6th, 2015)
Other improvements include support for iPhone 6 and 6 Plus devices, as well as landscape mode support and other features designed to make LINE easier to use than ever.

Chat Search Feature Enhanced
---
A new message search feature has been added to the chat search feature available first on the iPhone version of LINE.
*Android version with chat serch feature was released too. The feature only works on Android 4.1.0 or higher and LINE 4.9.0 or higher. (January 6th, 2015)

Have you ever caught yourself wondering who you were talking with about going to that new place around the corner? Ever thumbed through group after group looking for the details to this year's Christmas party? Well, thumb no more! With the new message search feature, you can find the exact chat you're looking for faster than you can say Merry Christmas.
The search feature has been extended to cover the following areas with this update.
- Chat message content
←NEW!
- Account names of friends you've chatted with 1-on-1 and in multi-person chats
- Names of group chats
You cannot search for account display names of members in group chats.
How to Search
Enter a keyword into the search box at the top of the Chat tab to view the search results. These results are separated by chat category into group and account names, and message content is displayed in the message. Search results can display up to 100 for each chats and messages on iPhone, and unlimited for chats and 500 for messages on Android.
Tap the chat displayed in the search results to jump directly to the conversation!
Keywords you search for will be highlighted in the chat, making it very easy to find the exact part of the conversation you were looking for.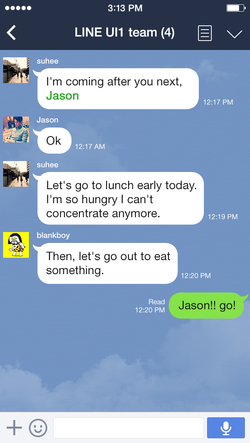 If the same keyword is repeated multiple times in the chat, a list of the relevant portions of the conversation will be shown.
The search feature is now better than ever.

Support for iPhone 6 and 6 Plus Screen Resolutions
---
We added support for iPhone 6 and 6 Plus screen resolutions in order to create a more comfortable user experience.
Landscape Display Support for More Screens, in Addition to Chat Screens
---
We've extended our support for landscape screen displays beyond just chats! When using this new feature, please make sure to allow screen rotation on your device.
LINE will continue to offer updates that include features requested by you, in order to provide all of our users with more convenient and secure service.