LINE Trio, a new and exciting puzzle game, has joined the LINE GAME family! Join Detective Brown on an adventure to return the masterpieces stolen from the LINE Gallery by the devious Phantom Thief X. Along with his assistant Romeo, Detective Brown will solve an increasingly difficult series of puzzles to clear the stages while gathering painting fragments along the way!
How to Play: Clear the Exciting Stages to Restore the Gallery's Masterpieces!
Move the blocks up, down, left, or right and match 3 or more blocks of the same LINE character to pop them. Each stage has its own mission, such as a limit on the amount of moves you can make, that must be cleared before you can progress to the next stage.
Match 4 or more blocks and you can make a diverse array of special blocks that'll give you a leg up in completing the stages.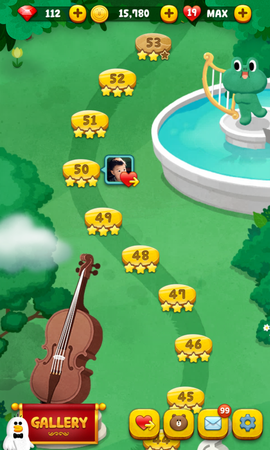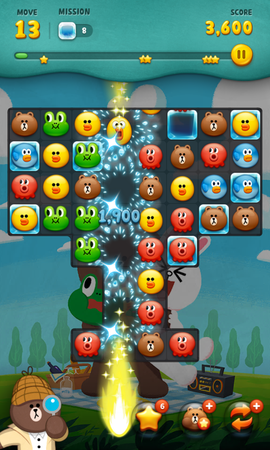 Each stage cleared will net you 1 fragment of a stolen masterpiece. Get all 20 fragments in each area to complete 1 of the Gallery's masterpieces. Clear all the stages and return LINE Gallery to its former glory!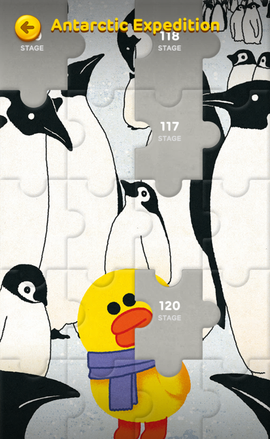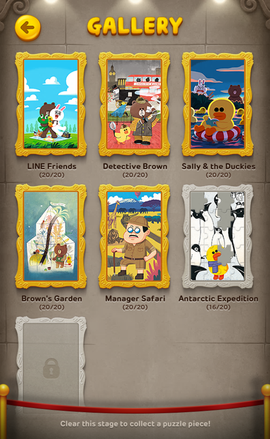 LINE Trio Tips & Tricks
Now we'll tell you some hot tips to help you clear the stages in LINE Trio!
Make Special Blocks
Connect 4 or 5 blocks of the same character and a special block will appear. These blocks will give you tons of points, so make sure to use your detective vision and look carefully for opportunities to make them.
Line Block -
Appears when you connect 4 blocks in a straight line. It'll pop all the blocks in a horizontal or vertical row.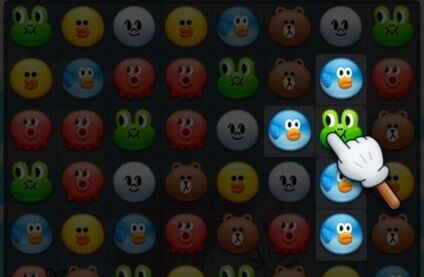 Hyper Block -
Appears when matching 5 blocks in an L-shape. It'll pop all the blocks in the surrounding area.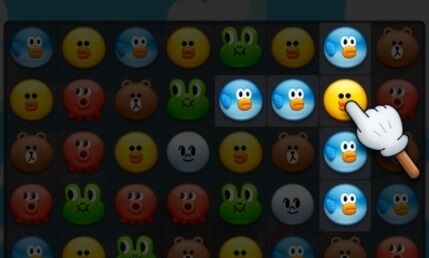 Random Block -
Appears when matching 5 blocks in a straight line. It'll pop all blocks of 1 type.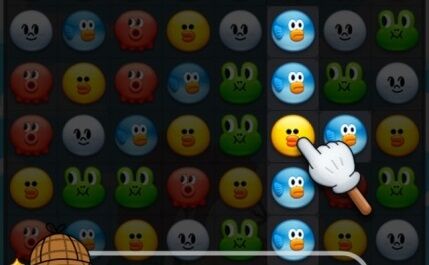 Use all of the special blocks to their maximum potential and watch in amazement as the blocks disappear from the screen. Try matching a Hyper Block and a Random Block. All the blocks with the same character as the Hyper Block will also turn into Hyper Blocks!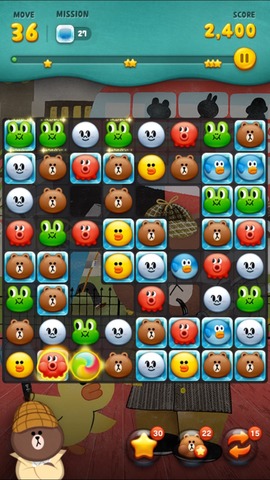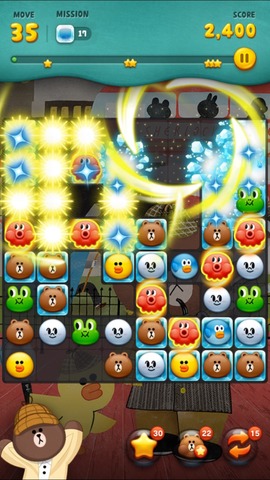 Use Items to Make Clearing Stages Even Easier!
The stages will get harder as you progress, and there's an item for every need to help you get past those difficult-to-clear puzzles!
+3 Moves -
Gives an additional 3 moves.
Random Block -
A Random Block will appear when the game starts.
Super Plus -
Every 10 moves a Line Block will appear.
Star Shot -
The selected block will be popped.
Line Plus -
The selected block will change into a Line Block.
Block Change -
Switch the position of 2 separate blocks.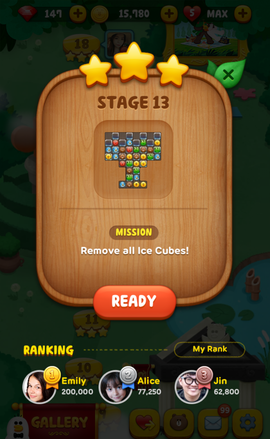 Gather the Painting Fragments to Complete the Masterpieces!
Clear all the stages in each area and you'll complete a masterpiece exclusive to that area. Set these breathtaking masterpieces as your smartphone's wallpaper and show off to all your friends!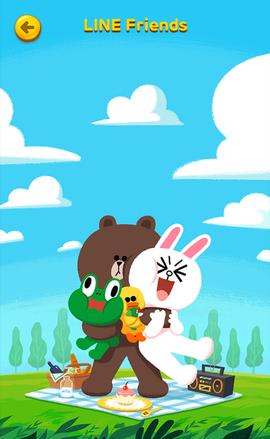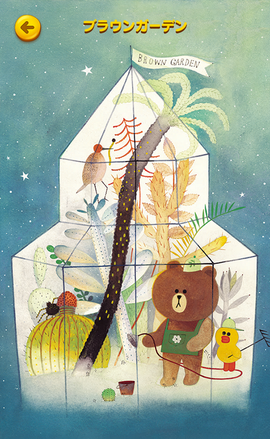 Invite Your LINE Friends to Get Items!
Invite your LINE friends to enjoy the game together. You can get the following gifts depending on the number of friends you invite.
1 Invite -
1 Heart
5 Invites -
2 Random Block items
15 Invites -
3 Star Shot items
25 Invites -
3 Line Plus items
50 Invites -
100 Rubies
Use the tips and tricks written here to make the most of your LINE Trio experience!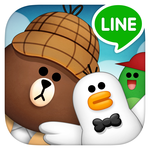 LINE Trio (Free Download)
App Store
https://itunes.apple.com/app/id895686410
Google Play
https://play.google.com/store/apps/details?id=com.linecorp.LGANIPANG