LINE Maps for Indoor has been released, bringing a specialized map app for shopping malls, department stores, and other indoor facilities.
Designate the shops or restaurants you want to go within the facility you're in and the app will show you the quickest route from your location, as well as provide you with shop information that you can share on a variety of social networking services.
The app is available in five languages, including Chinese (Traditional and Simplified), English, Japanese and Korean, ensuring that tourists visiting Japan can also use the app.
LINE Maps for Indoor will be released first on Android.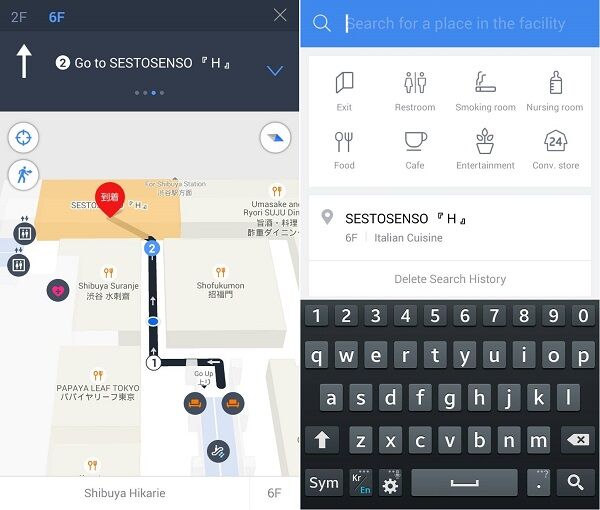 Recommend for Use When
- You want to find the shortest route to a specific shop in a large and complicated shopping center.
- You want to tell your friends where you are so you can meet with them without any hassle.
- You want to find restrooms in department stores that have nursery rooms or powder rooms.
- You want to recommend friends visiting from other countries shops in their native language.
Find Out Where You Are Immediately!
LINE Maps for Indoor will display a list of the main facilities in your area based on your GPS information. Tap the facility you want to know about to display map information, phone numbers, operating hours, and other detailed information in addition to services available on each floor.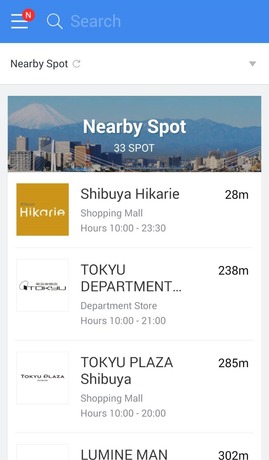 Tap the Current Location button to use Wi-Fi data to display the floor you are on and current location information. You can rotate the map, zoom in or out, and use the 3D display to see the map in a variety of ways with just a single tap.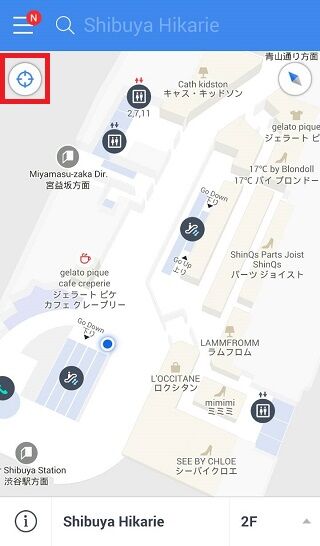 With the Share button, you can tell your friends where you are using LINE or other social networking services, recommend shops to friends, or pinpoint a location to meet up at.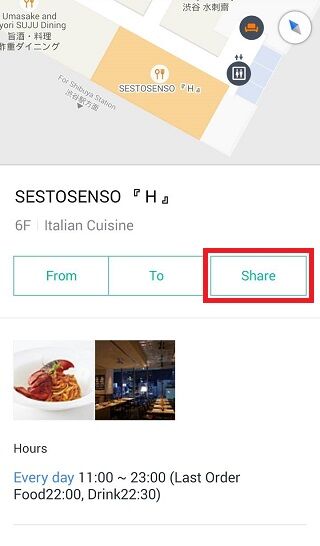 Full Support for Cross-Floor Guidance to Find the Place You Want to Go!
Once you know where you want to go, you can input a specific keyword from the Search button, or you can choose shops separated by detailed categories such as "Food" and "Convenience Stores" if you don't remember the name of the shop. For example, if you wanted to search for a nursery room or an ATM, the app will search the whole building to find the location you can get to in the shortest amount of time.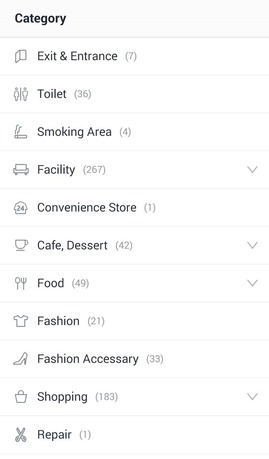 Open the Route option to see the closest and most convenient route to your destination from your current location. You can also choose routes prioritizing the use of elevators or escalators depending on your needs!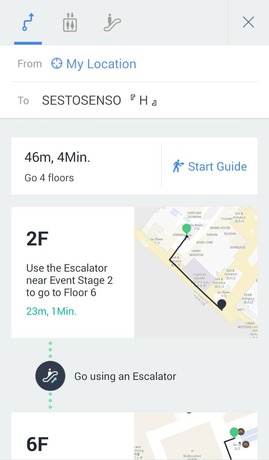 The best route will be displayed using precise location information to provide you with the best way to move on the floor you are on as well as the best way to move in between floors with elevators or escalators.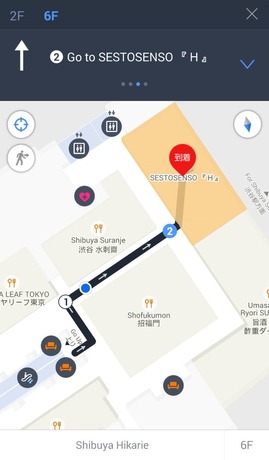 37 Facilities in the Tokyo Area Supported, with More To Be Added in the Future!
Maps for 37 major facilities will be supported at the time of release, including Shibuya Hikarie and Tokyo Midtown. More supported facilities will be added in the future to fill all your indoor needs!
List of Facilities
Shibuya Hikarie / SHIBUYA109 / Tokyu HANDS Shibuya Store / TOKYU PLAZA / Omotesando Harajuku / LUMINE MAN SHIBUYA Store / TOKYU DEPARTMENT STORE / Shibuya Flagship HONTEN / Bunkamura / TOKYU PLAZA Shibuya / Shinuya PARCO / TOKYU DEPARTMENT STORE Shibuya Station TOYOKO Store / Takashimaya Shinjuku Store / Tokyu HANDS Shibuya Store / Flags / LUMINE Shinjuku LUMINE1 / LUMINE Shinjuku LUMINE2 / LUMINE EST Shinjuku / Tokyo Midtown / Akasaka Biz Tower / Tokyo Tower / TOKYU PLAZA Akasaka / NIHONBASHI MITSUI TOWER / COREDO Muromachi1 / COREDO Muromachi2 / COREDO Muromachi3 / COREDO Nihonbashi / GINZA Velvia / LUMINE Yurakucho Store LUMINE1 / LUMINE Yurakucho Store LUMINE2 / Takashimaya Nihmnbashi Store / Tokyu HANDS Ikebukuro Store / Tokyo Kotsu Kaikan / Matsuzakaya Ueno Store / DiverCity Tokyo Plaza / JORNA MACHIDA / Saikaya Yokosuka Store / Saikaya Fujisawa Store / YOKOHAMA RED BRICK WAREHOUSE
Never get lost again when visiting a brand new place with LINE Maps for Indoor!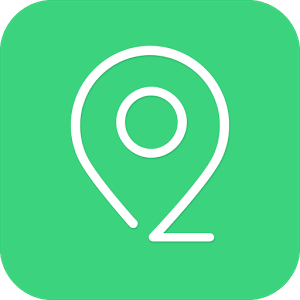 LINE Maps for Indoor (Free Download)
Google Play
https://play.google.com/store/apps/details?id=jp.linecorp.LINEMAPS