Today marks the release of
LINE's latest version
*, which comes with enhanced group features for chats with multiple friends. This release also brings with it an improvement to the report feature and optimization for iOS 8.
*4.7.0 for Android, 4.7.1 for iOS
Improved Groups for Easier Sharing of Photos and Events!
---
Tap the top right icon on the Timeline to see a list of groups that you are a member of. On each group's page, you can easily access the posts, albums, and members for that group. Save important messages as posts and carry on with your daily conversations in the chat to keep things neat and tidy!

Posts
---
The Notes feature has been renamed Posts and is now formatted in the same way as the Timeline. Messages added as posts to groups will also appear on all group members' Timelines*. Unlike chat messages, posts are stored separately from chats and can be accessed by members who join in later. They are perfect for sharing important information.
* Please be assured that group posts are only displayed on the Timelines of group members and are not visible to anyone else.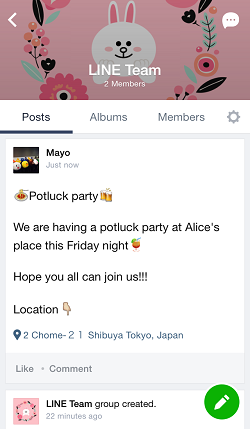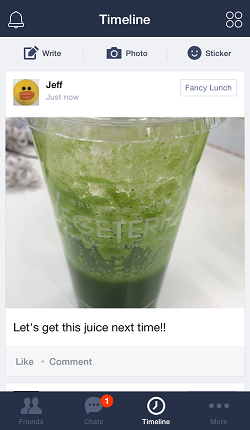 Albums
---
Share your favorite moments with the group! Photos in chats expire after a certain period, but in albums, they stay eternal. Friends who join later can see how much fun you've had too!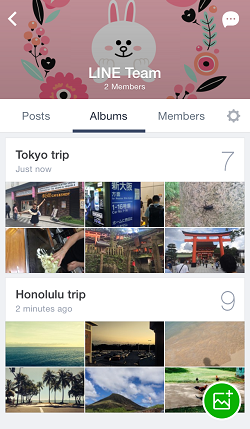 Members
---
View members and invited friends at one glance. Invite new friends or cancel invitations on this page too.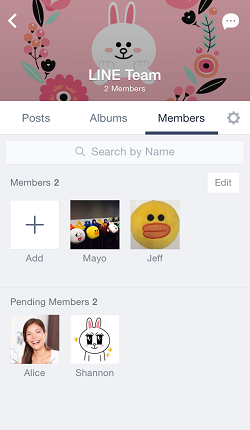 Posts and albums are also available in 1-on-1 chats. Tap the icon in the top right of the chat to see them.
Other Updates
---
Widened area of report feature. Now all chats and Timeline posts can be reported.
Added support for preview of animated stickers in sticker suggestions.
Increased maximum number of recipients to 10 when forwarding chats or links (for iOS).
LINE will continue to listen to your voices and update the app to provide a more convenient and secure service.