LINE camera
just topped 100 million total downloads around the world today! Thank you all so much for making this camera app the most loved and cherished of all LINE family apps and helping us to reach this important milestone.
LINE camera lets you jazz up your photos quickly and easily, turning even the most ordinary photographs into cute-tastic works of beauty. Here's a rundown of the evolution and special features of the app!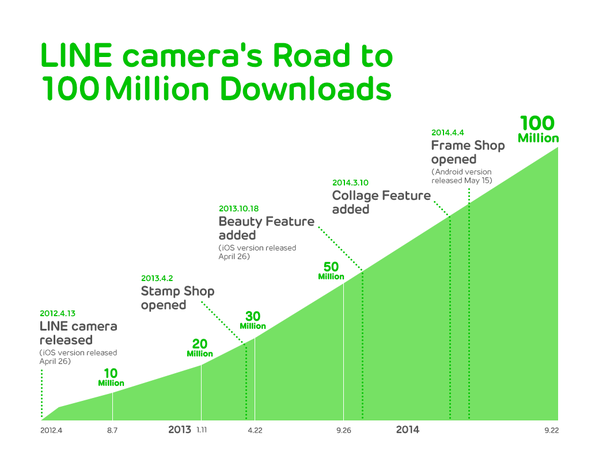 LINE camera came into this world on a brisk April day in 2012, the second app ever to be integrated with LINE. Countless users around the world have fallen in love with the simplicity the app has to offer, allowing them to modify their photos and share them with friends on LINE and other social networks with ease. The Stamp Shop opened up one year later, and the Frame Shop followed in April 2014, two years after the app first launched. Since then, LINE camera has continued to put out stickers and frames featuring popular characters and designed by well-known artists in addition to its standard selection of stickers and frames, opening up avenues of deeper and overall more enjoyable photo-based communication between friends and family everywhere.
The app has also embraced the "Selfie Boom" of recent years, unleashing the
Beauty
and
Collage
features along with other features aimed at skilled photographers and those that enjoy putting extra care into their pictures. These additional features have expanded LINE camera's capabilities, allowing it to flower and bloom as a photography app.
Beauty & Collage - Learn All You Need to Know About These Hot New Features Here!
The Beauty Feature released last year has gained quite the reputation for serving up quick, easy, and surprisingly natural selfies, which are all the rage these days, as well as pictures of friends. The Collage Feature allows photographers to arrange multiple photos any way they like, making this feature extremely popular for creating pictures to be posted on social networks and blogs the world over. With interfaces this simple, even a beginner can start beautifying and collaging photos like a picture-taking Picasso in seconds! Here's a rundown of everything you ever needed to know about these two features.
・How to Use the Beauty Feature -- Part 1:
Easily Achieve Naturally Beautiful Skin!
・How to Use the Beauty Feature -- Part 2:
Make Easy Touch Ups With the Face Slimming and Eye Enlarging Options!
・How to Use the Beauty Feature -- Part 3:
Bring Out the Beauty in Your Face Using the Touch and Skin Care Options!
・How to Use the Collage Feature -- Part 1:
Easily Create Collages by Selecting Photos and Templates
・How to Use the Collage Feature -- Part 2:
Easily Add Originality to Photos by Customizing Borders
・How to Use the Collage Feature -- Part 3:
Freely Position Photos and Adjust Layers!
・How to Use the Collage Feature -- Part 4:
Customize Backgrounds, Photo Contours, and More with Free Layout

Thanks for 100 Million Downloads - Special Stamp Set Featuring the LINE Characters
As a way of saying thank you to everyone for helping LINE camera reach 100 million downloads, we've whipped up a special set of stamps (24 in all) that can be used on LINE camera, and best of all, we're giving them out for free! These stamps know how to party, so turn your photos into all night dance-a-thons with these wildly cute decorations.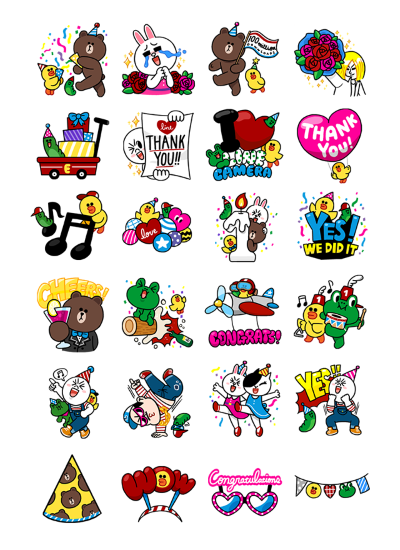 How to Download: First make sure you've downloaded the LINE camera app and then go to
the 100 Million Downloads event page
Download Period: From Monday, September 22 to Wednesday, December 31, 2014 (GMT+9)
Validity Period: Stamps can be used for 180 days after downloading them.
LINE camera promises to keep on serving up new features as well as cute stamps and frames in order to make this app more robust, fun, and easy to use in order to satisfy the photo-modifying needs of all our users around the world. Thanks for all your support and please keep taking photos with LINE camera!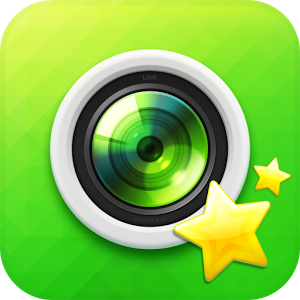 LINE camera (Free download)
http://camera.line.me/go