LINE GAME now has its very own rhythm game, LINE Stage. Tap and flick the screen along to the beat of popular songs and aim for a new high score as you give the finishing touches to your perfect performance!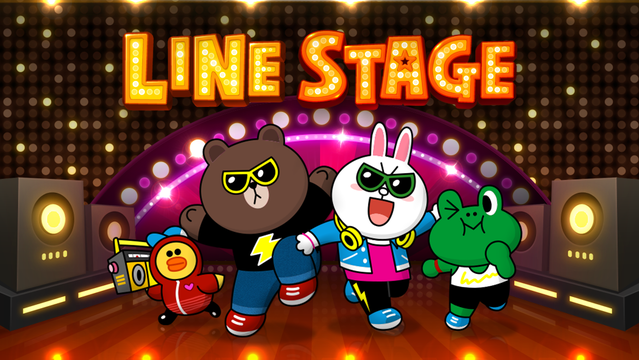 Story: Witness the LINE Characters Aspiring to Achieve Their Goal of Stardom!
The LINE gang has formed their own unit, the Stagees, and they dream of becoming super stars in the future. But one day, a member of the group steals their debut song, leaving the remaining members - Brown, Cony, Leonard, and Sally - with nothing but pure shock at the betrayal. In the midst of all this, the legendary hit-maker Rhythm Fairy suddenly appears before the group to guide them on the way to their glorious debut song, "Hello Friends!" Advance through the stages and watch the Stagees perform in venues around the world as they aim to become the next big name in music!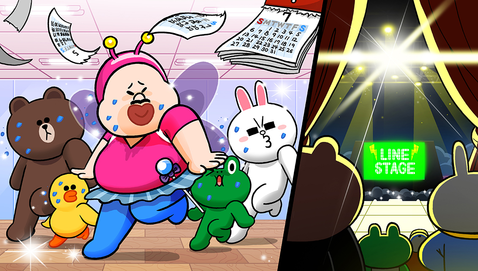 How to Play: Tap and Flick Along to the Rhythm!
The key to the game is to tap or flick notes (characters' faces) when they enter into the judgment area (green circle) from the right of the screen. You might also be asked perform a variety of other simple yet challenging tasks, including tapping with both hands or in quick succession, and flicking up, down, left, or right.
The more accurate your timing, the more you'll rack up bonuses and add to your score. You can also get bonuses, Coins and fans by clearing the missions in each stage. Challenge more intricate and complex songs as you progress through the stages!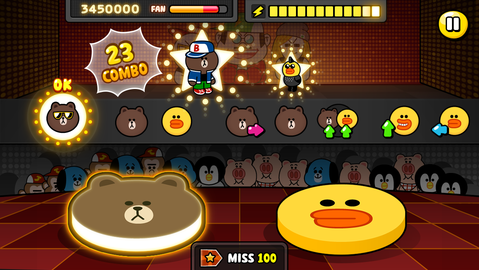 The map is built around various "cities," and you'll get a chance to face off against the local city's superstar once you beat the final stage of that city. Beat your superstar rival in each city to get lots more fans. The more fans you have, the higher the bonus score you'll receive for completing each stage.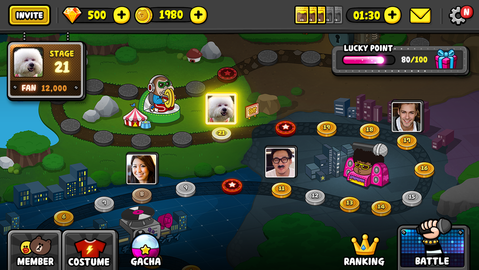 You can also face off against your LINE friends in head-to-head musical battles. Win and you'll get more coins!
Perform Popular Songs Based on Your Level!
Not only are there Stagees original songs and free songs playable on each stage, but there are plenty of premium songs purchasable with Rubies too! More and more songs are soon to come, including those from famous artists, nostalgic tunes, anime theme songs and more!
You can also choose between 3 levels of difficulty for each stage, "Rookie," "Veteran," and "Master," meaning you can play and enjoy lots and lots of your favorite songs!
Change Character Costumes for Even More Fun!
Each character that performs on stage, and each stylish costume, has its own unique abilities. Characters will gain certain skills depending on the costume they wear, allowing them to create an even cooler, more memorable performance.
There are also a variety of items to use, including those that make it easier to achieve combos, those that erase misses, and more!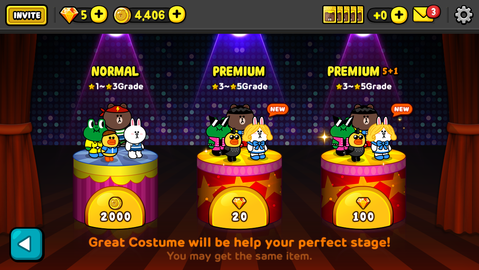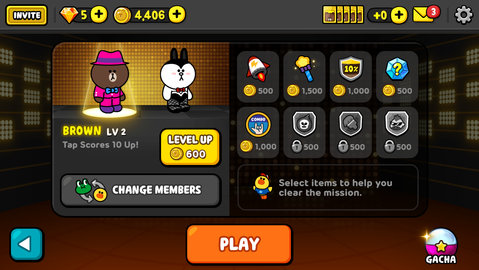 Check out the Promotional Movie!
We've made a video covering the LINE Stage story and gameplay, so please take a look!
Welcome in LINE Stage, the fresh game from LINE GAME with all new adventures and fun. Join the Stagees group and help the gang reach stardom!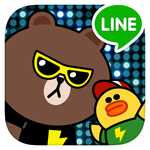 LINE Stage (Free Download)
App Store

https://itunes.apple.com/app/id806083596
Google Play
https://play.google.com/store/apps/details?id=com.linecorp.LGSTAGE