The newest exciting entry in the LINE GAME series, "LINE Football Manager", has been released! For the first time on LINE GAME, actual football players appear in this football management simulator. Contract with and level up over 10,000 players from 50 countries and make the strongest team in the world! Use the 3D live game broadcast to see actual players compete on a lifelike 3D football field.
Basic Gameplay –
Decide Your Team and Formation and Watch Matches in Real-Time!
From the team menu, you can choose your team's formation and the position of each player or have the lineup set automatically for both defense and offense. The real-time match starts based on the automatically generated schedule, and progresses in real-time. Watch them carefully to devise your future strategies. Missed games can be re-watched later with the "replay" function. The 3D images and unique stadium sounds will make it seem like you're actually watching a game at the stadium!
Develop Your Favorite Players to Strengthen Your Team!
Players appear as upgradeable Player Cards and have between 2 and 9 Potential stars. Player Cards can be received as match rewards, for clearing missions, and by spinning the Gacha.
The Player Manager menu can be used to upgrade Player Cards, as well as improve their defense, offense, and proficiency at specific positions. Players can become skilled at any position, so you can choose your favorite player and expand his abilities to fit any role!
The number of player cards is limited, so once they're full you must expand the amount of slots available or release the player from their contract.
Compete with your LINE Friends and Other Players From All Over the World in 4 Exciting Modes!
From the League menu you can select 4 different modes. Your LINE friends will appear in the Regular League and System Cup.
1. Regular League: 38 matches within the same league will progress over the course of a week. Rankings will change depending on the results of each season (1 week).
2. Ranking Competition: Compete with all users for the highest ranking. Your opponent is selected at random, and you will receive a reward based on your ranking for each week.
3. System Cup: This is a tournament with a randomly generated game schedule. Win this tournament to get a special prize.
4. World Tour: Travel the world playing against various football teams. You will receive a prize for the first match you win each time after you level up.
Make your dream team into the strongest of them all!
LINE Football League Manager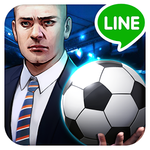 App Store
Google Play