The new LINE version 4.3.0 was released today for Android devices. The update includes several improvements to stickers, group chats, and other features. *
1

Stickers
Check stickers before sending them with the new sticker preview feature.
Now you can save yourself the embarrassment of sending the wrong sticker to friends with the new sticker preview feature included in this update. When sending stickers with LINE 4.3.0, a large version of the sticker is displayed before the sticker is sent, allowing the sender to confirm they are sending the sticker they really want to send. This feature is also great for checking tiny messages included on some stickers.
How to Use Sticker Previews
1. Tap the sticker you want to send to display a large version of the sticker.
2. Tap the sticker again, or press the Send button to send it.
You can choose whether or not to take advantage of this feature by going to More > Settings > Stickers. If you prefer to send stickers the same way you always have, just turn off the feature. If you like the idea of checking your stickers before sending them, turn the feature on to use sticker previews.
Sending Similar Stickers Has Never Been Easier
Have you ever received a hilarious sticker in a chat, only to be forced to dig through your library of stickers to find the perfect response? Well dig no more! This new feature lets you tap stickers received in chats that belong to sticker sets you have already downloaded to bring up the entire set. This tool is extremely useful for sending the same sticker right back at your friends.
Adding Friends
The Recommended Friends List Now Tells You Why
When you check out the Recommended Friends list in LINE 4.3.0, you may notice something a little different. The list now includes people that added you as a friend, as well as other members of group chats you belong to. The new and improved Recommended Friends feature also shows you the reason why they are being recommended.
The feature works as follows. When another person adds your phone number to the contacts list on their device and that list is linked with the LINE app, a message saying "Added you by Phone No." will be displayed in your Recommended Friends list. If somebody else uses your LINE ID to add you through the "Search by ID" feature, the message will display "Added you by LINE ID".
The max number of group members has been increased to 200.
Until now, the maximum number of members you could add to a group was capped at 100, but no longer! We responded to your requests to raise this number by increasing the limit to 200 members. We hope that clubs, sports teams, classes, and other groups with over 100 members will take advantage of this new feature. *
2
Now you can turn off invitations and other messages from LINE family apps.
This update includes a new setting that allows you to turn off all invitations and other messages from LINE family apps, including LINE GAME apps, even if they are not installed on your device.
Turn Off Unwanted Messages
Go to More > Settings > Notifications > Additional Services > Unauthorized Apps and remove the check from Receive Messages to turn off these messages.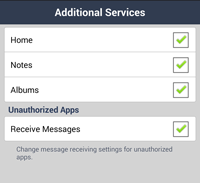 If you receive a lot of unwanted invitations to play games from over-eager friends, this is exactly what you have been waiting for.
We will do everything we can to add the features our users want in future updates. Keep sending us your suggestions so we can make LINE better together.
*1 An iPhone version of the update that includes the same new features will be released soon.
*2 The maximum number of members for chats with multiple members that are NOT group chats is still 100.