The day creators around the world have been waiting for has finally arrived!
LINE Creators Market, the new sticker market where any LINE user can sell their own original stickers, is now taking sticker submissions! Sticker sales are planned to start in May.
About the Creators Market
LINE Creators Market is a service designed to let anyone create, submit, and sell their own stickers for use in LINE chats. See
here
for more information on the process that runs from registration to sticker sales. Reviews of sticker submissions start today on a first-come, first-served basis. Sales of stickers that pass the review are scheduled to begin in May.

How to Register
1. Enter your info to register as a creator
a. Go to the LINE Creators Market website and log in from your personal "My Page" using the email address and password registered with your LINE account.
b. Go to Account Settings located in the menu on the left and enter the necessary information in the Basic Information tab. Click the Save button to register your info. All entry fields with a green check mark are required to complete the registration process.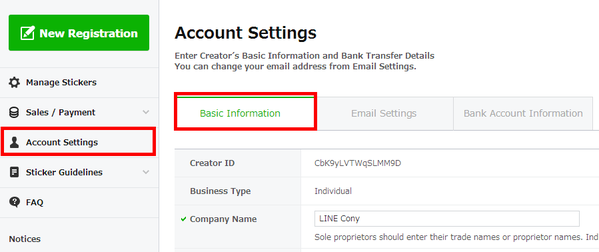 c. Go to the Bank Account Information tab in Account Settings, enter the necessary information, and click Save.
2. Registering your stickers
a. Go to the New Submission page and enter the information about your stickers that will be displayed in the Web Store. Click the Save button to store your info. Please note that English is the default registration language for sticker titles, descriptions, and your creator's name. If you want to register additional languages, you can add them by clicking Add Languages or clicking the Edit button in the creator's name section.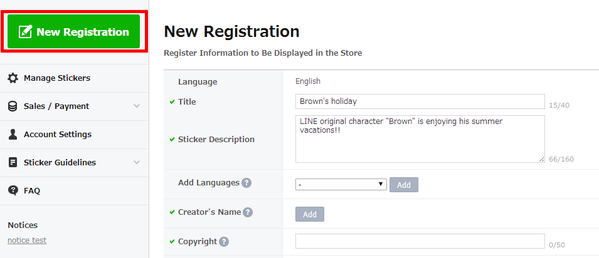 b. Upload your sticker images from the Edit section at the bottom of the Sticker Images page. You can upload your images one at a time, or place them all into a ZIP file and upload them all at once. Please see the sticker Guidelines for more information on acceptable file types and dimensions for images.
That's it! The submission process is complete once your stickers are uploaded. To make changes to sticker sets after you've submitted them, you can do so from the Manage Stickers page for the stickers you wish to edit.

Supported Countries for LINE Creators Market
Supported countries: Users from around the world can register as a creator and submit stickers with LINE Creators Market. However, users residing in countries not supported by PayPal cannot register.

Countries and regions where stickers can be sold: Countries and regions supported by LINE Web Store (Indonesia, Japan, Taiwan, and Thailand).
Frequently Asked Questions

Q: How long does the review process take?

A: We review submitted sticker sets one at a time, so the length of the review process changes depending on how many submissions we have at the time.




Q: Can I create stickers without a LINE account?

A: No. You must have a LINE account to log in to My Page.




Q: If I submit my stickers, are they guaranteed to go on sale?

A: Once stickers are submitted, they are reviewed by LINE to make sure they don't violate any third party rights or contain other inappropriate material. Only stickers that pass this submission process may go on sale. Please see the Sticker Guidelines inside My Page for more details.




Q: Where will my stickers be sold?

A: Stickers submitted through LINE Creators Market will be sold exclusively through LINE Web Store, an online marketplace accessible from your smartphone or PC web browser.




Q: How much of the revenue from the sale of original stickers will go to the creator?

A: The amount payable that the creator receives is calculated by deducting the income tax withholdings from the return. The return is 50% of the sticker set sales.




For other questions about sticker submissions, the review process, selling stickers, or receiving your payment transfer, please see the FAQ section located in My Page.
For all you potential creators out there, this is your chance to have your original work used by millions of LINE users! We look forward to receiving your submissions and watching your dreams come true.