Change your smartphone screen to the design you like with LINE's latest release, LINE DECO. All decorations packs are FREE until end of April!
LINE DECO is perfect if
You are bored with your current smartphone screen design.
You want to match your screen design with your smartphone case.
You don't want other people to recognize your icons.
You used to enjoy changing the design of your feature phone, but gave up with smartphones.
You want to have the same screen design as your friends.
There are more than 3,000 designs, with something to suit every taste. New designs will be added each week, so even the most avid redecorator should never get bored. Of course, there are plenty of LINE character designs as well.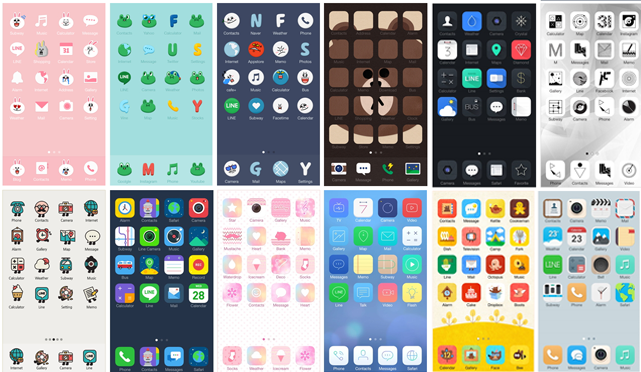 LINE DECO is so easy to use, anyone can learn it in a minute!
Changing Wallpaper and All Icons Simultaneously
1. Select a design from the DECO Pack screen and tap "Use this DECO Pack".
2. Select an app for each icon then tap "Add to Home". For iOS users, go to your Camera Roll to choose a wallpaper. For Android users, setup a wallpaper to fit your display type.
Note: iOS users will need to configure the icons individually.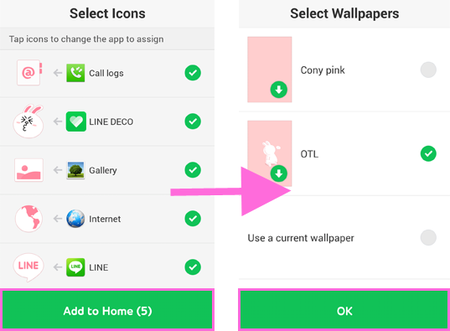 3. Return to your Home screen to see your boring old design replaced with a fresh new theme.
1.Select the desired icon, choose the app you want the new icon to be a shortcut for, and then tap "Add to Home".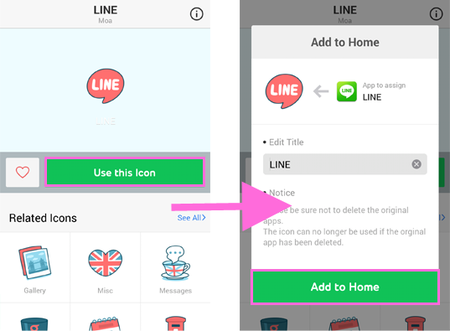 2.Once you've decided on the app name, the setup is finished. Just go to your Home screen to see your new icons.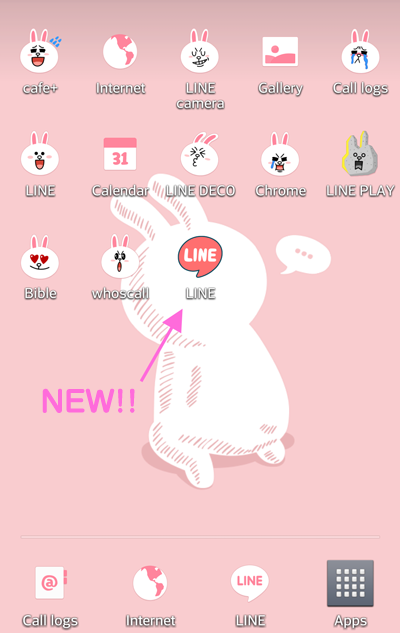 Tips for a Better User Experience


TIP 1: If Different Icons Appear

Other icons may be displayed to the side of the LINE icons on the "Set Icon Shortcut" screen. If so, the original shortcut needs to be changed.

TIP 2: Don't Delete the Original Icon

LINE DECO only creates shortcuts to apps and does not replace the original icon. Please DO NOT DELETE the original icon, as this will also delete the app. If you are an iOS user and you find your screen becomes too cluttered with icons, try moving all the original icons to a single folder and label it something like "Original Icons".
LINE DECO also allows you to create and share your own designs. Not just you, but all your friends can enjoy your personalized designs!
Now you can make your phone's Home screen look exactly how YOU want!
Tips for iOS users.

On iOS, the following screen appears when selecting a DECO Pack and icons. Tap the "Add to Home" button to finish the setup process.


LINE DECO(Free)